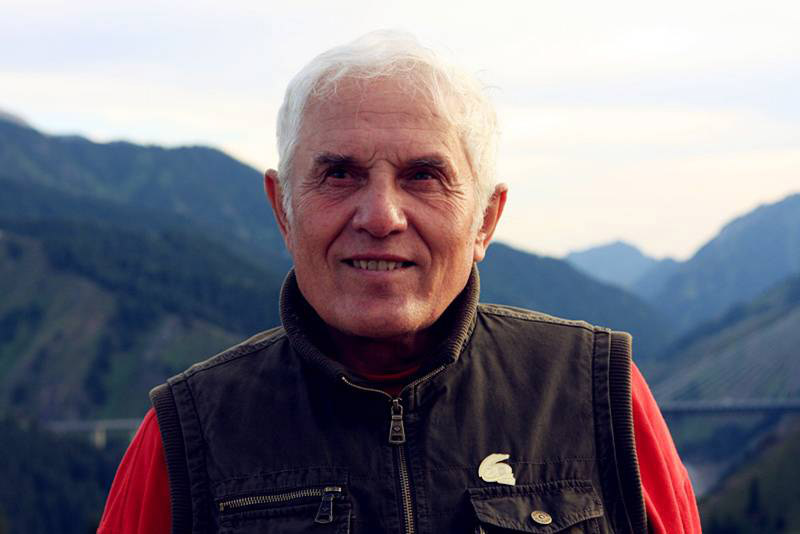 Li Yizu, an offspring of expats who has spent 54 years in Xinjiang. [Photo/CRIENGLISH.com]
With high snow mountains, endless desert and vast grassland, the beauty of Xinjiang is undoubtedly breathtaking. For those who live there, they might just say the land gives them energy and reasons for life.
Li Yizu, an offspring of expats who has spent most of his life in Xinjiang, is definitely one of them.
Bayanbulak Grassland is located in the hinterland of the Tianshan Mountain in northwest China's Xinjiang Uygur Autonomous Region. With an altitude of more than 3,000 meters, the vast grassland surrounded by cloud-kissing snow mountains attracts a large number of geologists and tourists every year.
Li Yizu, a silver-haired, yet very hale and hearty geological expert is introducing the spectacular and inspiring scenery of the place. With a typical Caucasian face, it's hard to believe the man who speaks in fluent Beijing dialect has lived in Xinjiang for more than 50 years.
Sitting in his office, the 77-year-old veteran geologist recalls his past.
"I lived in Beijing for 23 years, and then came to Xinjiang after I graduated from China University of Geosciences in 1961. I majored in geological exploration. All my classmates and I were looking forward to coming here, which was an undeveloped area at that time, using what we learned to do something meaningful."