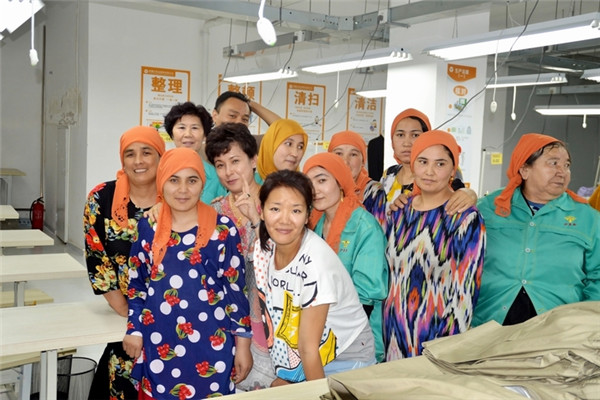 Saliye Hobay, center, and her employees. [Courtesy of Saliye Hobay]
When Saliye Hobay lost her enviable job in 2002, she felt lost and hopeless. It was hard for the then 24-year-old girl to imagine that she would one-day be creating jobs for more than 100 women.
Today, she is doing just that.
Born in Altay prefecture, in the north of the Xinjiang Uygur autonomous region, Saliye got first discovered her eye for beauty when she was a little girl. She liked the idea of putting flowers on her head while wearing a red scarf, a neckerchief worn by Chinese schoolchildren as a badge of honor.
After graduating from a vocational school in 1995, Saliye got her dream job in the clothing industry. But only six years later, the state-owned company she worked for went bankrupt.
After a period of depression, the young woman from Kazak ethnic group decided to start her own business. In 2005, she borrowed money to establish a clothing manufacturing company that specialized in work clothing.
Saliye spared no efforts to get every opportunity she could get and gradually earned the trust of her customers. Now her company, Sallyking Dress Co. Ltd., has over 100 employees with yearly sales volume over 20 million yuan ($3.13 million). The company's products are also exported to countries in central Asia.
Located in Urumqi, capital of Xinjiang Uygur autonomous region, the company employed more than 90 percent of its workers from Uygur ethnic group.
Traditionally, Uygur women stay at home and look after their family while their husband earn the family income.
"Most of the Xinjiang companies in the textile industry suffer from a lack of labor force," said Saliye. "That is due to the large amount of men who are reluctant to let their wives work outside."