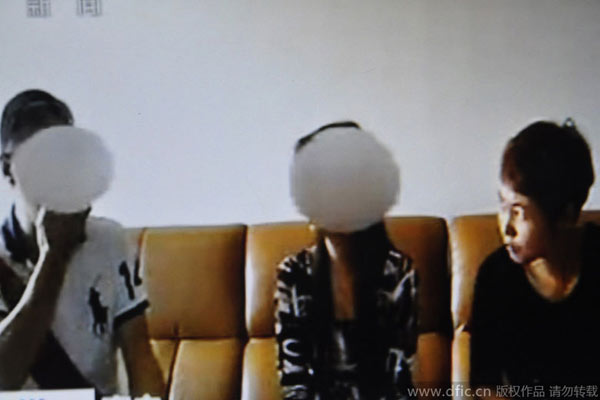 The footage run by CCTV shows a client (L) talking with an ovum provider (C). [Photo/IC]
Surrogacy in any form will be forbidden in China, according to a draft amendment to China's national law on population and family planning proposed to China's top legislature for review on Monday.
The draft, proposed by the State Council, China's Cabinet, to the National People's Congress for review, also forbids buying or selling of sperm, eggs, fertilized eggs and embryo. It allows authorized medical institutions to conduct assisted reproductive technologies after approval from provincial-level health authorities.
Although banned by health authorities, surrogacy has been operating underground in some parts of China in recent years, through which surrogacy mothers and their agents normally make profit through providing the services.
According to the previous reports earlier this year, an investigation by state broadcaster CCTV found surrogacy agencies in Beijing, Wuhan and Guangzhou that help their clients find eggs, surrogate mothers and unlicensed clinics.
In April, the Chinese government has set up a special task force to crack down on medical organizations, medical personnel and agencies providing illegal surrogacy service. Twelve ministries, including the National Health and Family Planning Commission, started the eight-month special nationwide campaign to fight surrogacy.
Lack of legislation is a major challenge in fighting surrogacy, according to the commission. In addition, it is more difficult to collect evidence on surrogacy cases and punish those held accountable, the commission said in a statement released after a meeting to review the progress of the campaign earlier this month.
A previous report said it is believed that the higher demand for surrogacy from China is partly due to the rising infertility rate. A report on China's infertility released by the China Women and Children Career Development Center in 2012 finds the infertility rate has increased to 12 percent in 2012 from 3 percent of 1992, which means about one in eight couples have reproductive problems.
As China's law forbids surrogacy service and the government periodically cracks down on the underground surrogacy market, more Chinese couples are looking to overseas agencies.
It usually costs from 800,000 yuan to 1.1 million yuan (about $125,790 to $172,950) to have a baby in the US, much more expensive than in other countries such as Thailand, India and Nepal.