Editor's Note: Spring Festival is the most important day in the year for Chinese people. On this day, Chinese people, no matter how far away from their home, would go home for a family reunion.
But this joyful holiday has its down side. The all-important day leads to fierce competition for a ticket on the homebound train. To buy a precious ticket, Chinese people would try every possible means.
Now, let's have a look at some of the interesting, or touching, stories around China happening during the fierce competition for a ticket for the Spring Festival travel season.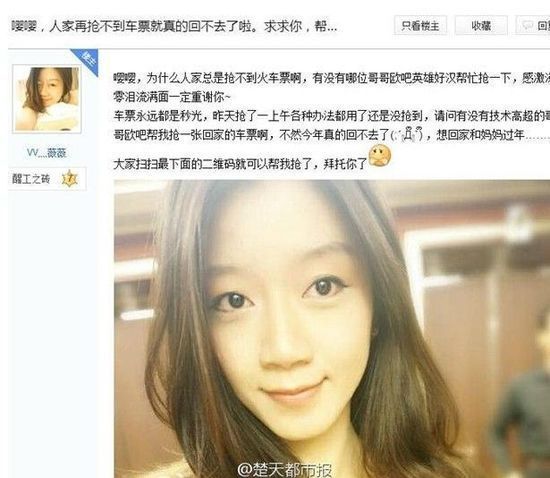 A girl posts her picture online to seek help from 'white knights' who can help her snap up a train ticket home for the Spring Festival. [Photo/Chutian Metropolitan Daily]
Good look works in ticket battle
A good-looking woman found a solution on the Internet when she had trouble buying a train ticket ahead of the Spring Festival holidays.
The woman, with the Internet name of "VV weiwei", sought help from "white knights" to help her buy the ticket she needed to go home in Guangzhou, South China's Guangdong province. The message drew a large number of responses, with more than 700 "gentlemen" on the Internet taking action right away. As a result, eight tickets were purchased in less than two minutes.
Some netizens exclaimed that a good-looking face goes far in getting what you want.
Next up, Restaurant helps snap up railway ticket