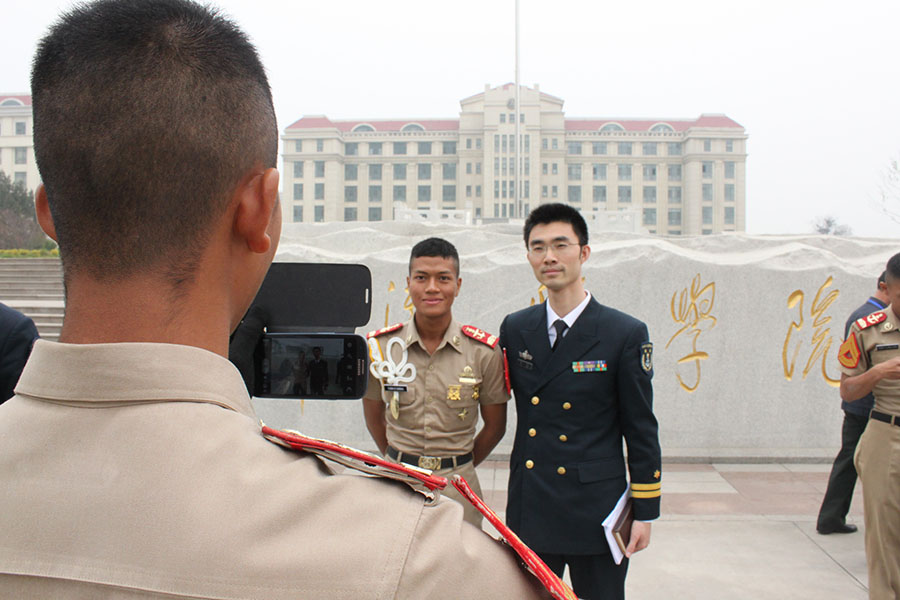 A student of the Indonesian Naval Academy poses for a photo with a Chinese instructor during a visit by an Indonesian delegation to the PLA Navy Submarine Academy in Qingdao, East China's Shandong province, April 21. [Photo by Peng Yining/China Daily]
Nearly 100 students and officers from the Indonesian Naval Academy visited the PLA Navy Submarine Academy in Qingdao on April 21, as part of exchange activities of the 14th annual meeting of the Western Pacific Naval Symposium, which the PLA navy will launch on April 22.
Following a tour of the academy's library and laboratory, Bambang Kuncoro, leader of the Indonesian delegation, said he was impressed by the facility and staff.
"China has outstanding submarine troops, and we are looking forward to learning from China, as we do not know very much about submarines," he said. "We also want to strengthen relations with the PLA navy. This is the main aim of our participation in the WPNS and the joint drill afterwards."
Liu Ping, an instructor at the academy, showed the visitors how submariners can evacuate a submarine in an emergency by crawling through the torpedo tube.
"It is dark and narrow inside the tube," said Liu, adding that the tube is only about half a meter in diameter.
"That's why the training is crucial. Every student in our school has to pass a series of tests to be a qualified submariner."
Adetya Warman, 21, a student at the Indonesian Naval Academy, tried to navigate a submarine on a simulator during the tour.
"It was like driving a car but more difficult," he said.
"I have learnt a lot from this trip. I hope someday we will have our own submarine academy."
Rear Admiral Zhi Tianlong, head of the academy, said that submarines are one of the most powerful weapons at sea, and training submariners is indispensible for any navy.
"It is always teamwork in the submarine. Crew members need to be very close because they are facing the same risks and they share the same fate underwater," said Zhi. "We also aim to work as a team with other navies and to develop through exchanges."
At the end of the tour, the Indonesian students expressed their appreciation by singing a song specially prepared for this visit.
"The lyrics mean: Go! The Indonesian and Chinese navies are great!" said an officer in the Indonesian delegation. "I hope this visit and the WPNS will strengthen the relations between China and Indonesia."