BUCHAREST - Chinese Premier Li Keqiang and leaders of Central and Eastern European (CEE) countries pledged here on Tuesday to expand investment and trade.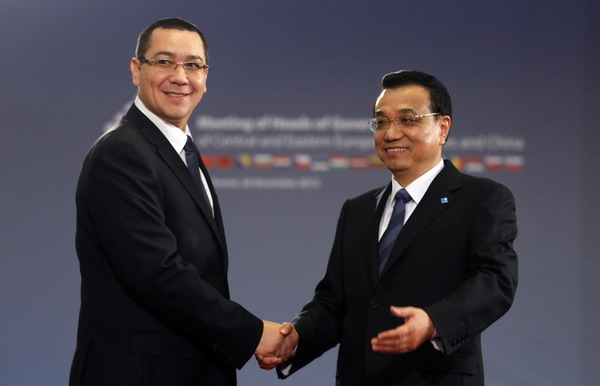 China's Premier Li Keqiang is welcomed by Romanian Prime Minister Victor Ponta at the meeting of heads of government from Central and Eastern European countries and China in the lobby of the Parliament building in Bucharest November 26, 2013. [Photo/Agencies]
The two sides agreed at a China-CEE leaders' meeting to designate 2014 as the year for promotion of investment and trade between China and CEE countries, and a series of events will be convened during that year.
In a cooperation guideline adopted at the meeting, the leaders also agreed to encourage their countries' small and medium-sized enterprises to play an active role in economic and trade cooperation between the two sides.
They pledged support for small and medium-sized enterprises to strengthen cooperation in green technology.
The two sides also decided to promote trade in agriculture, announcing support for the establishment of a joint association to promote agricultural cooperation.
On financial cooperation, Chinese and CEE leaders vowed to beef up coordination, encourage their financial institutions to carry out cooperation in various forms, and make good use of a 10-billion-U.S.-dollar special credit line to boost trade and economic cooperation between the two sides.
The leaders said they support their financial institutions to develop business and open more branches in each other's markets, and support the People's Bank of China to sign currency swap deals with CEE central banks in accordance with their respective needs.
The two sides also agreed to support their institutions to invest in each other's inter-bank bond market.
The Chinese premier arrived here Monday for an official visit to Romania and the summit with CEE leaders.