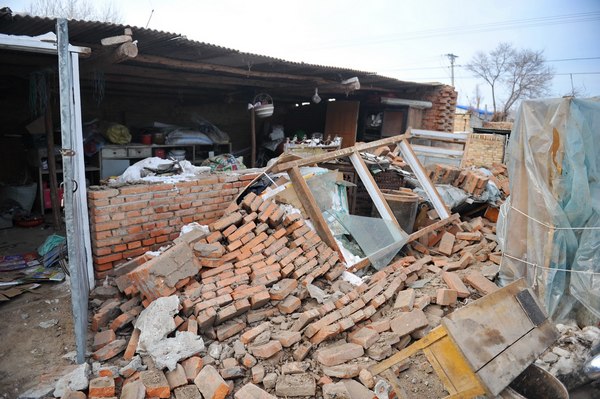 Houses are damaged by multiple earthquakes measuring 5.0 or greater in magnitude in Songyuan city, Northeast China's Jilin province, Nov 23, 2013. [Photo/Xinhua] 
CHANGCHUN - Three earthquakes measuring 5.0 or greater in magnitude jolted the city of Songyuan in Northeast China's Jilin province on Friday and Saturday, damaging thousands of houses and rattling villagers out into the cold air.
No casualties have been reported so far after a 5.8-magnitude quake hit at 6:04 am, followed by another 5.0-magnitude quake at 6:32 am.
The two earthquakes struck after a 5.3-magnitude quake hit at 4:18 pm on Friday. The three quakes were reported in the Qian Gorlos Mongol Autonomous County and its border with Qian'an county.
A total of 58,301 people have been affected by the earthquakes, which have seriously damaged 5,302 houses, according to the civil affairs department of Jilin Province. According to a previous report, 15,900 people were evacuated.
All were shallow quakes, occurring at a depth of eight or nine kilometers, which are usually more destructive than deep-focus quakes of the same magnitude, seismologists said.
In Chaganhua Town in Qian Gorlos, cracks were seen on a number of village houses and bricks that fell from nearby buildings littered the streets.
"I was sitting on the bed, and suddenly the house wobbled as if it had started to walk," said Li Yun, a 60-year-old villager in Chaganhua.
Many villagers were worried about the possibility of future earthquakes, as the latest quakes occurred just weeks after two quakes of similar magnitude shook the area on October 31 and left 12 people injured.
A dense fog shrouded the city on Saturday morning, with temperatures dropping to ten degrees below zero, which complicated rescue efforts and the relocation of quake victims.
Meteorological authorities have warned that the province will see heavy snow or blizzards in the next three days.