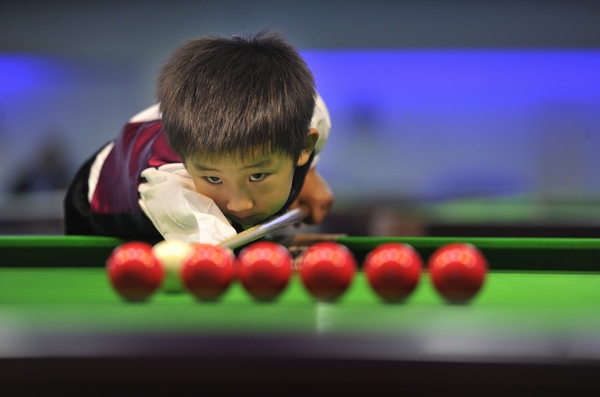 Wang Wuka, a 3-year-old prodigy who aims to be a top snooker player, recently competed against seven-time World Snooker Champion Stephen Hendry in Beijing. Photos by Wu Fang / for China Daily
Wang Wuka is not the only one who can't wait to grow up. Many observers are anticipating his coming of age to compete in the game professionally.
A 3-year-old Chinese snooker player in Xuancheng, Anhui province, is capturing attention after a video of him appeared on the Internet. Some call him "Snooker Wonder Child". Others write: "Next O'Sullivan." The young boy is Wang Wuka, who has been learning how to play since the age of 1 and is currently training five hours every day. Although he is still too young to compete in a youth snooker match, he is getting ready for the future.