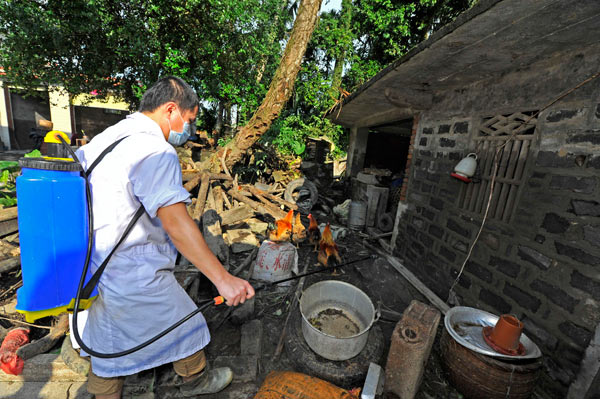 A medical worker sprays disinfectant in a village after torrential rain in Qionghai, Hainan province, on Tuesday. Luo Yunfei / For China Daily
The official death toll in Hainan province and the Guangxi Zhuang autonomous region was raised to 10 on Tuesday after Typhoon Haiyan grazed the coast of southern China, with millions affected, according to local civil affairs authorities.
Heavy rain and strong winds caused massive damage to houses and farmland over the past three days, disrupting flights and road traffic and forcing schools to close.
More than 1,000 students and teachers at a middle school in Guigang in Guangxi were stranded on the upper floors of the school as floodwaters rose to 1.5 meters on Tuesday morning. They were later rescued by firefighters.
In Dongxing, also in Guangxi, fast-rising water caused two 100-metric-ton ships to crash into a bridge on Monday afternoon.
One of the ships was towed away from the bridge and the other was still stuck under the bridge on Tuesday.
"The damage to the bridge is visible but there are no potential safety risks, and repairs will be made before next Friday," said an official with the Dongxing government who declined to be named.
According to the latest statistics released by the local civil affairs bureau, the typhoon affected more than 1.2 million people, with two deaths and four missing in Guangxi as of Tuesday. Direct economic losses have been estimated at 465 million yuan ($76 million).
Outside of Guangxi, the storm claimed eight lives, caused traffic chaos and damaged farmland in Hainan province since Sunday, said Chen Wu, deputy director of the local flood control and anti-typhoon bureau.
Seven crewmembers of a cargo vessel registered in Guangxi disappeared on Sunday afternoon after the ship's mooring rope broke in the storm. Four of the crew were confirmed dead on Tuesday, with the remaining three still missing as search-and-rescue work continues, according to the Sanya maritime authorities.
On Monday, more than 100 villages near the Wanquan River in Hainan province were flooded due to the torrential rains since Sunday.
Typhoon Haiyan made landfall in Vietnam on Monday morning after it left thousands dead in the Philippines, where it made first landfall.
Since Monday, the National Meteorological Center has sent typhoon monitoring data and relevant analyses to Vietnam twice a day.
Su Qiulan in Nanning contributed to this story.