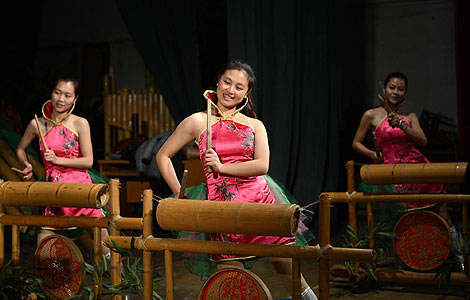 Performers play bamboo musical instruments in Chongyi county, Jiangxi province, Dec 1, 2012. [Photo/Xinhua]
BEIJING - Chinese enterprises in the cultural sector grew steadily in 2011 and contributed more to the national growth, according to the country's top statistical authority.
Added value generated by those providing cultural and entertainment goods and services surged 21.96 percent year on year to hit 1.35 trillion yuan (214.27 billion U.S. dollars) in 2011, the National Bureau of Statistics (NBS) said.
Firms in the sector also took up a larger share of China's gross domestic product (GDP), creating added value equal to 2.85 percent of the nation's 2011 GDP, up 0.1 percentage point from the previous year, NBS said.
Enterprises providing culture-related services grew rapidly in 2011. They contributed to 55.9 percent of the cultural sector's total added value, or 3.68 percent of the entire service industry, up 2.2 and 0.25 percentage points year on year, respectively, said the bureau.