Voters relish opportunity to question candidates
Updated: 2011-11-03 08:20
By Zhao Yinan (China Daily)
| | | | | | | | | | | |
| --- | --- | --- | --- | --- | --- | --- | --- | --- | --- | --- |
|   | | Comments() | | Print | | Mail | | Large Medium  Small | 分享按钮 | 0 |
BEIJING - Taking part in an election debate in China is more like a neighborhood get-together than a tit-for-tat showdown between rival candidates.
In a town meeting hall in western Beijing's Shijingshan district, about 40 voters gathered on a foggy Wednesday morning to fire questions at four candidates, battling it out for three seats on the district people's congress.
As one of the first events to be held during the latest round of elections for lawmakers, the event at Bajiao north community serves as an example of how the world's second-largest economy is advancing its grassroots democracy while maintaining its own characteristics.
With the revision of the election law in China last year, meet-and-greet events like Wednesday's have been introduced for voters who will participate in district and township congress elections.
With a more "vivid and straightforward" contact, the 900 million county-level voters and 600 million township-level voters are expected to learn more about the candidates running for about 2 million seats, according to official data from the National People's Congress.
The reforms for this year's election mean the process has evolved from a simple ballot-filling process to a more comprehensive involvement, said Mo Jihong, an expert with the Chinese Academy of Social Sciences.
Wearing a dark-blue suit and a scarlet scarf, former opera actress Wang Yujuan was the first to introduce herself to the audience at the Bajiao community hall.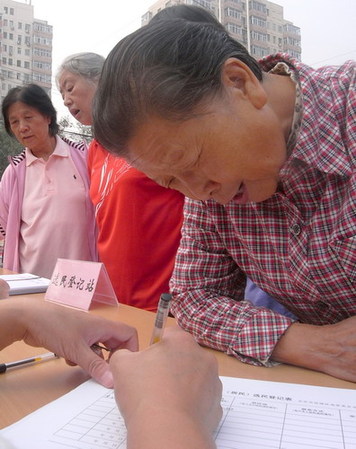 A woman surnamed Gao registers as a voter in Beijing's Xicheng district in mid-September. [Photo by Zhao Yinan/China Daily]
As the only candidate seeking re-election, Wang reviewed her accomplishments during her last term, then gave out her mobile and home phone numbers, a gesture that won wide applause from the audience.
Wang Qing, director of the community's urban management team, or chengguan, looked a little nervous.
"I had never taken part in an event like this," said the woman, who wore her uniform and a no-nonsense permed bob cut. "I was so uncomfortable and my words were not well-ordered."
The hour-long meeting allowed candidates to elaborate on what they might do to deal with a wide range of issues, from dog-walking to anti-theft measures and running a canteen for the elderly.
Sun Junfeng, head of Bajiao north community's committee, said in a community where one-fifth of the population comprises senior citizens, the security and health of the elderly are a major concern.
He admitted that sometimes he was unable to cope with residents' demands such as that for a cleaner and well-equipped compound. This is where the lawmakers can come in and make a difference.
"Wang Yujuan, the current lawmaker, wrote a proposal to the local congress and helped fix a water leak problem in the community, a long-standing issue that we failed to solve," he said.
Zhao Jing, a 76-year-old retired pilot, was the last person to ask a question. He said the question was only for those candidates he did not know very well.
"This being a 20-year-old community, some facilities are worn out and the sanitation keeps worsening. The ability to solve those two problems is what I'm looking for in a candidate," he said.
Cheng Zhen, a hospital doctor, did not get a chance to raise a question. She said after the meeting: "I'm not familiar with the candidates, except for Li Xiaoli, the pediatrician. Although I have run through their resumes, it's good to have a chance to meet them in person.
"I'm in favor of the doctor, and I think it's good for people's health if our lawmaker is a doctor by trade," the 51-year-old added.
The question and answer session lasted about an hour. With no trace of confrontation, candidates politely stood up, microphone in hand, and answered questions thrown to them.
China's first meet-and-greet this year between candidates and voters seems to have acquired strong Chinese characteristics: evident not only in the calligraphy, painting and Chinese knots hanging on walls, but also in the easy interaction between candidates and voters.
Digital get-to-knows
by Zhao Yinan
BEIJING - Tan Hongyan is sitting at her computer at work watching a video of her boss. But this has nothing to do with her job.
Tan's boss, the branch director of a financial institution, is running for a local congress seat and is introducing himself to voters online.
"As a regular 9-to-5er, it's almost impossible for us to meet all the candidates in the daytime. To watch an introductory video is more flexible, as I can watch it at my convenience," said Tan.
Tan, in her late 20s, is among the thousands who work in the glass-windowed skyscrapers in Beijing's Financial Street, a compound near the bustling Second Ring Road, which accommodates more than 150 multinational companies, financial institutes and global organizations.
Hou Huawei, deputy head of the Financial Street's electoral committee, said they decided to introduce the innovative online meet-and-greets because most of the voters in the street are company employees who would find it difficult to slip away from work to meet the candidates during business hours.
"So we made a six-minute video for each of the 58 candidates in the street, and they are allowed to introduce basic information, work experience, their understanding of being a lawmaker and what they will do for voters if they are elected," said Hou.
However, most voters in Beijing will have to forego such digital get-to-knows and still rely on the traditional written introductions, printed on a red paper and posted on a notice board near their communities.