China launches Shenzhou VIII early Tuesday
Updated: 2011-10-31 19:28
(Xinhua)
| | | | | | | | | | | |
| --- | --- | --- | --- | --- | --- | --- | --- | --- | --- | --- |
|   | | Comments() | | Print | | Mail | | Large Medium  Small | 分享按钮 | 0 |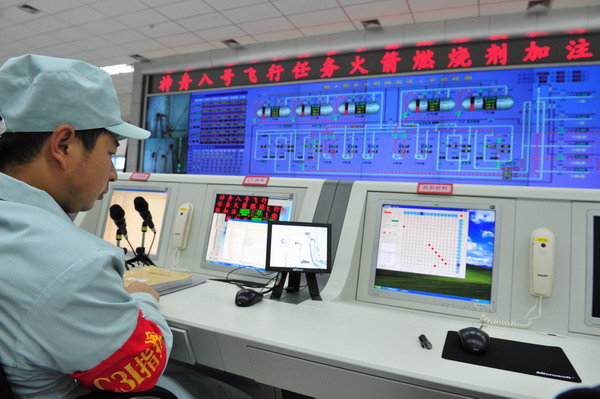 An engineer directs the fuel filling process of the Shenzhou VIII Monday morning at Jiuquan Satellite Launch Center in Northwest China's Gansu province. [Photo/chinadaily.com.cn]
Latest
A modified model of the Long March CZ-2F rocket carrying the unmanned spacecraft Shenzhou VIII takes off at 5:58 am Tuesday, Nov 1 at Jiuquan Satellite Launch Center in Northwest China. 
JIUQUAN - China will launch its unmanned spacecraft Shenzhou VIII early Tuesday for the country's first space docking, a major step closer to the goal of building a permanent space station around 2020.
Shenzhou VIII will take off at 5:58 am Tuesday, carried by a modified model of the Long March CZ-2F rocket at Jiuquan Satellite Launch Center in Northwest China, said Wu Ping, spokeswoman of China's manned space program.
The spacecraft is due to couple with Tiangong-1, or "Heavenly Palace," China's first space lab module within two days after the launch for the country's first docking. Tiangong-1 was sent into space on September 29.
They will separate after flying together for 12 days but will carry out a second docking later, she added.
The mission, if successful, will make China the third nation to master the technology after the United States and Russia, paving the way for the nation to place a space station into orbit around 2020.
Ready for blast off
Fuel was injected into the modified Long March CZ-2F rocket at 10 am on Monday, Wu said. Technical conditions of all systems are normal, interfaces of different systems are coordinated, ground tests are adequate, contingency plans are ready and all facilities are sound, which meet requirements for a launch, she added.
The launch vehicle is the latest updated model of the Long March-2F rocket, she said. The rocket, 58.3 meters long, has a liftoff weight of 497 tonnes and a payload capacity of 8.13 tonnes.
The target vessel Tiangong-1 completed a 180-degree turn-around to prepare itself for the upcoming docking at 7:34 pm Sunday under the control of the Beijing Aerospace Flight Control Center, said Chen Hongmin, director of the command center for the Chinese space program on Sunday.
He said the spacecraft was lowered to the 343-km-high rendezvous and docking orbit on Sunday after a series of maneuvers including orbit control and on-orbit testing during one-month orbits.
"Equipments and technical conditions of Tiangong-1 have met requirements for docking," Wu said.
To ensure the success of the mission, Chinese space engineers have made "considerable modifications" on Shenzhou VIII to previous versions of China's unmanned spacecraft.
Shenzhou VIII, with a length of 9 meters and a maximum diameter of 2.8 meters, has a liftoff weight of 8.082 tonnes.
"More than half of the 600 or so sets of equipment have been modified technically, while newly designed devices account for about 15 percent of the total," Wu said.
The modifications were mainly aimed at arming the spacecraft with automatic and manual rendezvous and docking capacities, and to enhance the vehicle's performance, safety and reliability, according to Wu.
"After the improvements, the spacecraft will be able to connect with the target spacecraft Tiangong-1 for 180 days," Wu said.
"We have full confidence in the successful launch of Shenzhou VIII, as well as the rendezvous and docking mission," she said.
Task
The main tasks of the Shenzhou VIII is to test docking technology and functions of the modified space vessel and rocket, and carry out scientific experiments, Wu said.
The unmanned spacecraft is equipped with devices for recording real images and mechanical parameters during its flight, to test the space docking before a manned attempt.
Once China has mastered the technologies of rendezvous and docking, it will be equipped with the basic technologies and capacity required for the building of a space station, said Zhou Jianping, chief designer of China's manned space program.
"It will make it possible for China to carry out space exploration of larger scale," he said.
For this mission, Chinese and German scientists will also conduct 17 space life science experiments on Shenzhou VIII. Among the research programs, 10 will be controlled by China, six by Germany, and one by joint efforts, Wu said.
"It is the first time for China's manned space program to carry out international cooperation in the field of space life science," Wu said.
"The experiments are of great significance in promoting the study and development of microgravity science and space life science," she said.