Parents see green scarves as humiliation to pupils
Updated: 2011-10-19 08:06
| | | | | | | | | | | |
| --- | --- | --- | --- | --- | --- | --- | --- | --- | --- | --- |
|   | | Comments() | | Print | | Mail | | Large Medium  Small | 分享按钮 | 0 |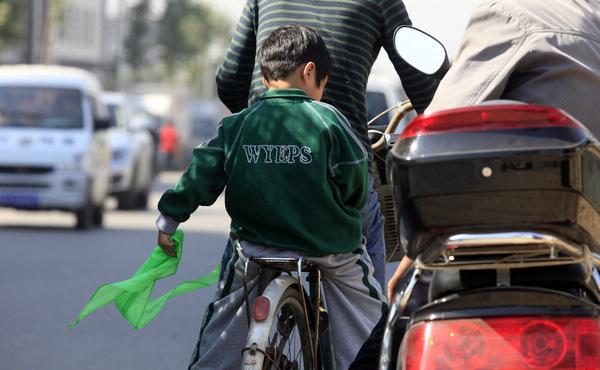 A pupil at a primary school of Weiyang district, Xi'an, who was told he had to wear a green scarf, takes it off as his family picks him up after lessons on Monday. [Provided to China Daily]
XI'AN - Li Yantao, 7, a pupil in the first experimental primary school of Weiyang district, Xi'an, capital of Shaanxi province, was perplexed when he was told he had to wear a green scarf.
On Oct 14, Li was among 40 pupils in the first grade who were told they had to wear green scarves at school rather than the red scarves of the Chinese Young Pioneers.
"Some classmates in my grade and all the pupils in higher grades wear red scarves, but I have to wear a green one," another grade-one pupil surnamed Ren said.
"I don't think the green scarf is as good as the red one, but I would be in trouble with my teacher if I did not wear it."
The school decided to make children whose schoolwork and general behavior were not yet good enough to wear green scarves instead of the red scarf of the Chinese Young Pioneers.
Parents whose children were given green scarves did not understand the reason behind the school's measure and thought it was inappropriate to make some pupils wear green scarves.
"The children still need their self-esteem even though they are very young, and they know the green scarf means something is not quite right," said a mother surnamed Su, whose daughter was also given a green scarf.
Many pupils who wore green scarves took them off and put them in their schoolbag after they left the school grounds.
"The original idea for designing the green scarf was to strengthen education and to encourage the pupils to work harder," said Chen Hong, the school's principal. "We did not think some parents would object to it.
"We let the better pupils wear red scarves first and gave the others green ones to encourage them to make more efforts to earn a red scarf next time.
"We have never discriminated against the pupils who wear green scarves and we will discuss a proper solution with the parents so the children will not be adversely affected by this," Chen said.
Green scarves used to be used as encouragement in some primary schools in Beijing, Shanghai and Wuhan, but the practice was stopped because they could not be considered as another form of the red scarf.
Chen Xixue, deputy director of Shaanxi provincial youth working committee, said that the committee did not support the school's use of green scarves as the measure did not meet the provisions of the Chinese Young Pioneers Team.
"As a national children's mass organization, its symbol should be standardized," the deputy director said.
Xu Jianguo, director of Xi'an educational society, told Xi'an-based Huashang Daily that the green scarves divided the children into different groups and could harm some pupils' self-esteem.
Founded in 1949 and run by the Communist Youth League of China, Chinese Young Pioneers is the country's largest children's organization. The red scarf is its only symbol and members are often referred to as "red scarves".