Critics want red card for Brazil's football boss
Updated: 2011-10-18 15:47
(Agencies)
| | | | | | | | | | | |
| --- | --- | --- | --- | --- | --- | --- | --- | --- | --- | --- |
|   | | Comments() | | Print | | Mail | | Large Medium  Small | 分享按钮 | 0 |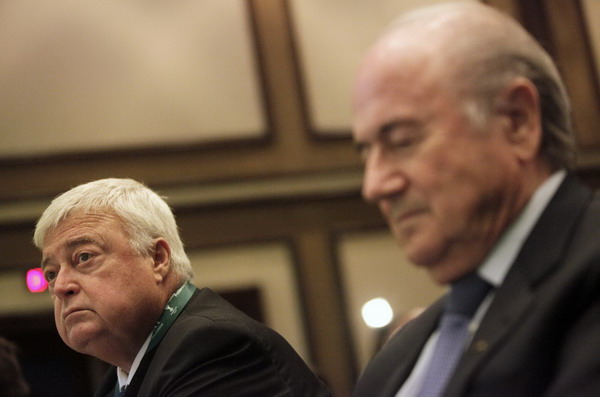 FIFA's President Joseph Blatter (R) and Brazilian soccer Confederation (CBF) President Ricardo Teixeira attend the Team Seminar in Rio de Janeiro July 29, 2011. [Photo/Agencies] 
RIO DE JANEIRO - Ricardo Teixeira has dominated Brazilian soccer for so long that, like many of the best players, he is known by just one name.
They call him the "cartola," literally the "top hat," a title given to football bosses that instills respect and fear in equal measure and can carry more than a hint of shadiness.
Teixeira's critics hope the hat may finally be slipping from the head of the man who has been chief of Brazil's football confederation for 22 years and leads the local organizing committee for the 2014 World Cup despite a slew of corruption allegations against him.
A federal police investigation launched this month threatens to shed new light on reports that Teixeira, a member of world soccer body FIFA's ruling executive committee, took millions of dollars in bribes from a sports marketing firm.
That comes as he also faces chilly political winds from Brazil's presidential palace and growing concern over the country's lagging, over-budget preparations for the World Cup.
Teixeira's critics say his role as the face of the 2014 tournament, with influence over where public funds are spent, risks becoming a major embarrassment for Brazil at an event meant to showcase its rise to developed-world status.
"Football is for the people and the people are paying for his individual actions," Romario, the legendary former striker who played a starring role in Brazil's 1994 World Cup title, told Reuters in an interview.
"If he responds to the questions that millions of Brazilians want to ask, it will be good for the World Cup and things could start to move forward," added Romario, now a federal congressman who has unsuccessfully called on Teixeira to testify before Congress.
Police are investigating allegations that Teixeira, 64, laundered money from bribes he is suspected of receiving in the 1990s along with two other high-ranking FIFA officials.
That follows separate allegations this year, also being investigated by police, that he oversaw a scheme to divert public funds from a 2008 Brazil friendly match.
Teixeira denies the allegations against him and has blamed the British media - the BBC first reported he took bribes - of sour grapes after England lost its bid to host the 2018 World Cup. The Brazilian Football Confederation, known as the CBF, declined requests to comment for this article.
Until this year, Teixeira could count on his warm ties with Luiz Inacio Lula da Silva, Brazil's jovial, football-loving former president. But Lula's successor, Dilma Rousseff, has made little secret of her disapproval of the cartola.
She was reportedly horrified when Teixeira did not invite Brazil soccer great Pele, a global sporting icon, to the preliminary World Cup draw in Rio de Janeiro in July. In what amounted to a public humiliation for Teixeira, she hurriedly appointed Pele as Brazil's honorary World Cup ambassador.
The first woman to lead Brazil has taken a tough stance against unethical behavior by her ministers, five of whom have been forced to resign this year. The latest cabinet member in the spotlight is Sports Minister Orlando Silva, who denies accusations that he skimmed money from sports programs and took delivery of wads of cash in the ministry's garage.
A rapidly expanding middle class in Brazil has become less tolerant of the corruption and nepotism that have for long plagued politics and the sport Brazilians refer to as the "beautiful game." That has helped fuel match-day protests this year where thousands of fans of different teams have found common ground under the slogan "Ricardo Teixeira out!"