What price property?
Updated: 2011-10-01 07:50
By Wang Ying (China Daily)
| | | | | | | | | | | |
| --- | --- | --- | --- | --- | --- | --- | --- | --- | --- | --- |
|   | | Comments() | | Print | | Mail | | Large Medium  Small | 分享按钮 | 0 |
Aspiring homebuyers are being stymied by a double whammy of rising prices and a dearth of affordable residences, reports Wang Ying from Shanghai.
Although exhausted and despairing of finding a bigger home to house his family of three, 35-year-old Zhu Hao tries to sooth his wife's nerves with a joyfully revised line from a popular movie starring the Hong Kong comedian Stephen Chow. "If heaven gives me a second chance to start all over again, I would like to buy a big house as early as possible; if I have to define its area, I hope it's at least 100 square meters."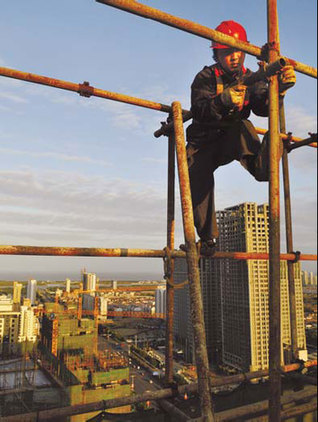 A worker at a construction site in Rizhao, Shandong province. With policy tightening set to continue, the property market is expected to cool down in the coming months. Provided to China Daily 
Zhu still remembers the early days of romance with his wife, a former university classmate, watching a funny, surreal, but touching, movie adapted from the classic of Chinese literature Journey to the West.
When the hero, the incarnation of the Monkey King who missed many chances to proclaim his love to a goddess, begged heaven to give him a second chance to tell his dying lover how he felt, both Zhu and his then girlfriend were moved.
But movies are not real life, and lover's vows won't replace the mundane realities of marriage in China.
"Our pay rise won't catch up with soaring housing prices, though we are not like the poorest people who own no house at all," said Zhu with relief.
Some people joke that those intending to marry are a house-beaten generation, with either a heavy mortgage to pay off, or rising rental costs and a lack of security.
Zhu Hao works for a State-owned public transport enterprise in Shanghai, and his wife is employed in a bookstore. With their limited budget, the search for a bigger home started three years ago, when their baby was born.
"We hadn't imagined that house prices would go up year by year, after touching a record high three years ago," said Zhu.
"Our patience, or hesitation, finally led to the current situation," he added.
The couple's plans don't seem overly ambitious: they want to sell their one-bedroom flat and use their savings to buy a two-bedroom home in the secondary housing market.
"But our efforts have proved futile, and the housing price has nearly doubled in three years," said Zhu.
In 2003, he bought an 80-plus (sq m) apartment for about 800,000 yuan ($125,000) in Pudong New Area, but it is no longer big enough for his family.
The price of homes in their area has soared to 27,000 yuan per sq m. In order to buy a bigger house, they will have to find a place in a more remote location.
"I feel a bit regretful for not buying a bigger house earlier, so we wouldn't be facing this problem now," Zhu said.
Zhu's remorse is echoed by another aspiring buyer living in a different area of the coastal municipality.
Wu Ke, 32, a female white-collar worker at a US-backed company, is desperately looking for an apartment for her forthcoming marriage next year.
The problem is that the housing price is not just climbing, but flying. "Between our love and marriage is the insurmountable price of housing," said Wu.
She said their families will help with the downpayment, but they are still finding that it's hard to buy a house in Shanghai.
"We have tried to find some newly built houses, but the price is mind-blowing. If we insist on buying a new house, we will have to live in a suburban area about two hours away from downtown by metro line," she complained.
"We have to make good use of the 400,000 yuan pooled from our families," she added.
Wu said she will keep up her search, and an upcoming housing fair between Oct 3 and 6 during the National Day Holiday will offer some choices too, but she is worried there won't be a suitable home.
Song Huiyong, research director with Shanghai Centaline Property Consultants Ltd, said that during the first 18 days of September, Shanghai realized a turnover of 307,358 sq m in commercial residences, less than half the average turnover during the same period last year.
"The turnover of the first 18 days of this month dropped 54.95 percent from last year's 682,199 sq m," Song added.
Many pessimists firmly hold the view that house prices will plunge. The imposition of various purchasing restrictions by regulatory authorities has had an effect. For example, the trading volume in the housing markets of major cities have all experienced a downturn recently, said Lu Qilin, research director at Shanghai Deovolente Realty Co.
However, the price of commercial residences in Shanghai keeps soaring. Between Sept 1 and 18, the average home price reached 23,389 yuan a sq m, up 13.93 percent from a year earlier.
Similarly, many other major cities saw a dwindling number of home purchases but prices keep rising rapidly.
Lin Qian, vice-president of Beijing Homelink Real Estate Co, was quoted by the China Securities Journal as saying that Beijing's property market has remained sluggish in recent months, and he expected that September will see Beijing setting a record low for sales.
In Shenzhen, a barometer city in measuring housing market sentiment in South China, only 1,462 units changed hands in August, according to data released by the Urban Planning Land and Resources Commission of Shenzhen.
In an interview with Bloomberg in September, the Hong Kong billionaire developer Vincent Lo said China's property prices may fall in the next 12 to 18 months, as banks curb loans to real estate companies.
"Judging by the current situation, it is almost certain that the "Golden September" for property trading will become a bronze September this year, and October won't see a rebound either," he said.
Meanwhile, property developers are reluctant to promote their wares and their discounts for newly released properties hover between 5 to 10 percent. The cash-rich developers are patient enough to wait for potential buyers.
"As long as there is no breakthrough in price cuts, the standoff between developers and home buyers will continue," added Song.
However, Zhu and Wu cannot wait, but with limited budgets their housing dreams may turn sour as the clock ticks against them second after second.
If heaven gives them a second chance.