Patient's knife attack raises security fears
Updated: 2011-09-22 07:40
By Cheng Yingqi (China Daily)
| | | | | | | | | | | |
| --- | --- | --- | --- | --- | --- | --- | --- | --- | --- | --- |
|   | | Comments() | | Print | | Mail | | Large Medium  Small | 分享按钮 | 0 |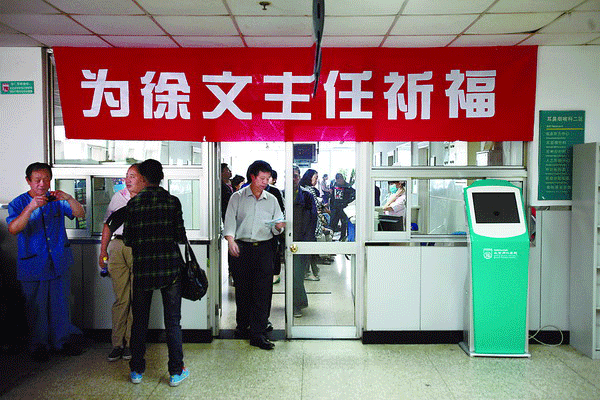 A banner in Beijing Tongren Hospital says "Bless Xu Wen", the doctor who was stabbed more than 10 times with a kitchen knife by one of her patients on Sept 15. The incident has prompted calls for new laws. [Photo by Wang Jianing/for China Daily]
BEIJING - The recent stabbing at Beijing Tongren Hospital of a surgeon by a former patient has raised concerns over the safety of medical staff members.
On Sept 15, Wang Baoming, 54, stabbed his former physician, Xu Wen, 10 times with a kitchen knife. Wang was arrested two hours after the attack.
Xu suffered severe injuries to her back and arms. She had emergency surgery and is now under close observation. Her life is not in danger, says doctors.
In 2006, Wang had surgery at the hospital to treat laryngeal cancer but the cancer recurred.
He filed a lawsuit against the hospital in 2008 because he believed Xu Wen did not treat him properly, which directly led to the recurrence. However, Wang attacked Xu before the court session had started.
The hospital and doctors expressed great anger over the incident. On a digital screen at the hospital a sentence reads: "Bless Xu Wen. Punish the attacker severely and give dignity back to doctors."
On Tuesday, the Chinese Hospital Association posted a statement on its website strongly condemning the attack.
The statement said: "In recent years, there have been frequent instances of patients attacking medical staff, which sounds a warning that patients should protect their rights in accordance with the law, instead of infringing other people's rights."
Similarly, on Sept 16, the Chinese Medical Doctor Association also published a statement urging society to pay more respect to doctors.
"The government should attach importance to the rising tensions between doctors and patients, and think about what caused the current situation," said Deng Liqiang, head of the association's law department.
"Negative media reports have surely played a role in tarnishing the image of doctors, and some doctors did behave inappropriately because they were unhappy about their income. The government should sort out these problems."
In August, the Chinese Medical Doctor Association released the results of a survey of 3,704 doctors nationwide, which found that 48.5 percent complained about their working conditions and 91.9 percent said the job involves many sacrifices for low financial return.
As for why doctors become victims of violence, 55.6 percent said society is simply prejudiced against the medical profession, 23.5 percent said doctors did not communicate with patients properly and 20.6 percent said treatment cannot meet patients' high expectations.
"I felt so angry that I could not sleep when I heard about the attack," said Wei Wenbin, an ophthalmologist at Tongren Hospital, in a comment on the hospital website.
"I remember in 2009 one of my students, who was working at a hospital in Anhui province, was stabbed seven times by a patient. Society should be concerned about doctors' safety."
Song Zhongqing, a lawyer in Beijing, said the legal system should be revised to protect doctors.
"Currently the courts decide medical disputes based on the assessment of appointed health officials. But the assessments seldom indicate who made the conclusion or how it was arrived at, so patients are not convinced," Song said.
"Without an assessment method that makes the patients feel they have been treated fairly, they will not trust the legal system to protect their rights."
Cheng Shuying contributed to this story.
Hot Topics
Organ transplant bonds mother and son