Gao Ming, video king
Updated: 2011-09-20 07:46
By Zhang Xiaomin (China Daily)
| | | | | | | | | | | |
| --- | --- | --- | --- | --- | --- | --- | --- | --- | --- | --- |
|   | | Comments() | | Print | | Mail | | Large Medium  Small | 分享按钮 | 0 |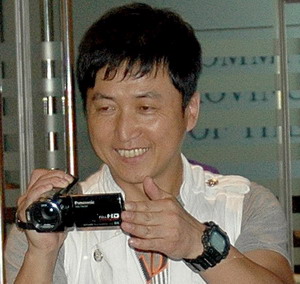 Gao Ming, who is well-known for the videos he has made and posted online, participates at the Summer Davos 2011 in Dalian, Liaoning province, last Friday. [Photo/provided to China Daily] 
DALIAN, Liaoning - How dedicated is Gao Ming to taking videos of the world around him?
"I always take my digital video camera with me everywhere, even when I go to the washroom," Gao said. "Something interesting might happen and it won't wait for you to take a shot."
Yeah, that dedicated.
The Beijing-based paike (someone who makes digital videos and shares them online) focuses his lens mostly on the hot spots of society and ordinary people.
He has 100,000 followers on popular blog site Sina Weibo and hosts an entertainment talk show Meet Gao Ming on video sharing website youku.com.
"His stories are very attractive," said Duan Xiaoying, who has been assisting Gao for about two years.
"The interviewees like him for his humorous and easy manner," Duan said.
The two usually brainstorm for clips, then Duan works the camera as Gao emcees. Together they have produced about 500 video clips, with many attracting more than half a million hits.
"When a clip gets tens of thousands of comments, I feel really happy. This is what I love," said Gao.
He became a video enthusiast in 1996 when he bought a secondhand digital video camera.
"I found myself falling in love with videos immediately. I just like recording everything," he recalled.
In 2005, he started to shot funny one-minute clips, but soon realized the arranged scenes didn't reflect real society. So he turned his camera toward the common people - walking on the street with a camera and turning it back on himself from time to time to explain what was happening.
Some of the clips that gained him fame - and several prizes - include a woman outside the Beijing Film Studio, who dreamed of making big money as an actress and supporting her lover to run a business, and a security guard who performed rock and roll on the street. Both of them later became Web celebrities.
There can be trouble on the street, however.
During the World Cup last year, Gao and his partner went to Beijing's bar area to record the celebrations of soccer fans. They came across a fight at a bar.
The men thought Gao was filming the fight and tried to beat him instead. Gao quickly dragged his partner out of the bar and they ran as fast as they could.
Two groups of gangsters were chasing them until Gao pulled the videotape out and threw it on the street.
Recently, however, he's been thinking of refocusing his lens.
Because of his popular video stories and strong communication skills, Gao was chosen to cover a meeting of the World Economic Forum in Dalian, Liaoning province.
"It's the first time that I focused on the elite. I made dozens of videos for the participants, including business leaders, scientists and government officials," he told China Daily.
Gao interviewed Klaus Schwab, founder and executive chairman of the World Economic Forum, and asked him questions on behalf of Chinese netizens, such as how he could get world leaders to meet and what impressed him most about China.
After the interview, Gao gave Schwab an open invitation to his home for a taste of his wife's special recipe - noodles with soybean paste.
The chairman gave him a bear hug and said he might make it next time when he goes to Beijing.
Gao's video of the forum attracted more than 300,000 hits in 24 hours, according to Shao Dan, director of international public relations at youku.com.
"It is a big number for a video about high-level economic events," said Shao. "More than 200 comments were made after the video. Gao built a bridge between common netizens and a top forum."
"He reported the event from a perspective unlike the traditional news media. Gao is capable of representing the grassroots paike in China," she said.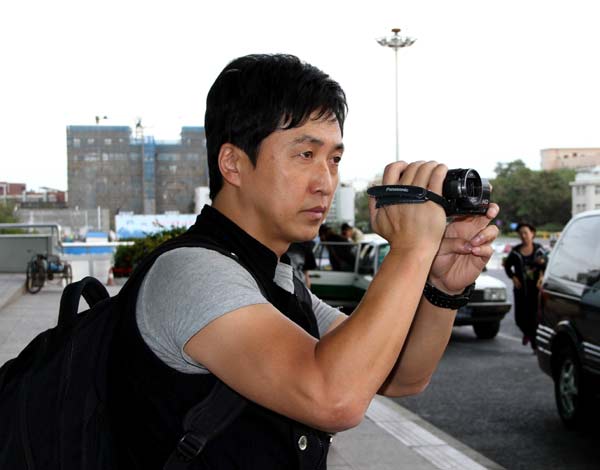 Gao Ming takes videos.
According to Gao, the domestic paike group is small, with only hundreds of active members. And new members often supersede the old.
"The popular video and social websites provide opportunities to everyone to become a paike and a grassroots reporter," said Gao.
Hot Topics
Organ transplant bonds mother and son