Danger all in a day's work for engineer
Updated: 2011-09-08 07:43
By Wang Huazhong (China Daily)
| | | | | | | | | | | |
| --- | --- | --- | --- | --- | --- | --- | --- | --- | --- | --- |
|   | | Comments() | | Print | | Mail | | Large Medium  Small | 分享按钮 | 0 |
LOGAR, Afghanistan -Zhou Xun has had to be careful of unexploded bombs in dozens of Afghan villages.
He is well aware of the risk of being abducted by the Taliban.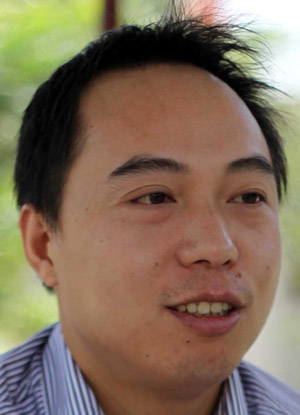 Zhou Xun, an environmental and social assessment engineer. [Photo/China Daily]
The narrow lanes between houses remind him of scenes of deadly urban warfare.
And when he goes out into the Tahitak community to check the local copper mine, he is accompanied by a police commander carrying a machine gun.
"But I have to go. My job is not only for the copper mine but also for the community itself," he said.
Zhou, 35, is an environmental and social assessment engineer with the Chinese venture MCC-JCL Aynak Minerals Company Ltd, which is preparing to tap one of the largest copper deposits in Afghanistan's Logar province.
The Sichuan native's key role is to coordinate with a third party assessment company to collect firsthand social and environmental data. That includes hydrology, atmosphere and soil conditions, as well as uncovering the living conditions and religious backgrounds of the local people by interviewing them face to face.
His presence in the community on a sweltering summer day drew curious spectators, who stood staring behind him or watching from rooftops.
"Then I remembered a village elder I had visited before who said he lost a leg and several sheep from an explosive device."
Zhou did not let his guard down until a group of laughing children ran toward them, surrounding them and offering handshakes.
Many couldn't speak English, but they knew Zhou came from China and took an interest in him.
"One of them, about 10 years old, wanted to exchange some kungfu moves with me," Zhou said.
"He made one of Bruce Lee's iconic gestures."
Zhou said that was surprising since only 2 percent of the community's families have TV sets.
Later that day, the elder of the community promised Zhou they could take off their bulletproof jackets "as friends", and invited them for a homemade dinner. Though living poorly in clay houses, the locals offered them pancakes and tea.
However, Zhou said safety is not the only hurdle they have to overcome. There are also the high standards on environmental and social assessment set by the International Finance Corporation under the World Bank.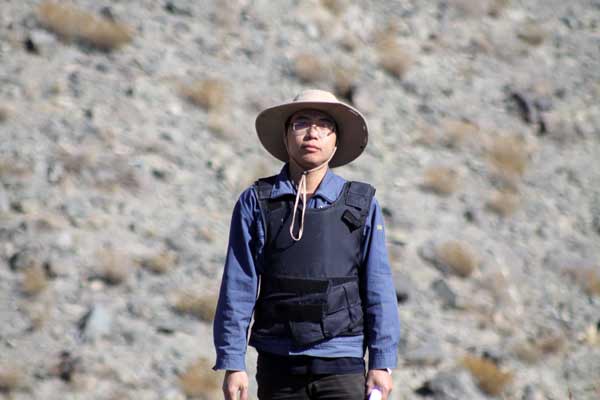 Zhou Xun, an environmental and social assessment engineer. [Photo/China Daily]
In Afghanistan, the war destroyed many environment-monitoring facilities or census systems and so no secondhand data is available, Zhou said.
"One of the hydrology stations on the Logar River has even been taken over by an NGO as a warehouse."
They have to consider local cultural taboos like not eating pork or drinking alcohol, and also have female experts interview local women.
Most importantly, Zhou's assessment team must inform locals not only of the project but of its impact - possibly negative - on their lives.
Because so few of the villagers have received an education, the team brought illustrations and documents in Pashto to tell them what was going on.
"By doing so, we could understand their concerns and address the problems to minimize the risks and damage."
Zhou and his colleagues have worked in the mountainous region since 2009.
Liu Jialing, who is in the company's technology department, said Zhou is "a man dedicated to his job" and was even in Kabul when his wife gave birth to their now two-year-old daughter.
"His family called him many times, suggesting he come back, arguing life is more important than money and career. But the stubborn man always says we have to complete our job responsibly," said Liu.
For safety reasons, the company forbids employees from going out without permission. Women have to wear burqas even in the hot summer and entertainment is little more than basketball, cards or karaoke inside the company's compound.
There is a spot of more positive news, though.
According to Zhou, the Afghan environment ministry has accepted the company's initial report, which outlines the direction and methodology for further assessment.