China-Japan relations vital: poll
Updated: 2011-08-11 12:07
(chinadaily.com.cn)
| | | | | | | | | | | |
| --- | --- | --- | --- | --- | --- | --- | --- | --- | --- | --- |
|   | | Comments() | | Print | | Mail | | Large Medium  Small | 分享按钮 | 0 |
Cementing China-Japan relations is of vital importance to the two countries but territory issues remain the largest obstacle for its development, according to a poll conducted in both nations.
Released on Thursday in Beijing, the Public Opinion on China-Japan Relations 2011 survey, sponsored by China Daily and the Japanese non-profit think tank Genron NPO, reveals insightful new developments into how people in each country view one another.
This year's poll shows about 83.1 percent of the general public and 88.6 percent of university teachers and students in China think relations between the two nations are "very "or "quite" important. About 41.2 percent of the public and 30.4 percent of university teachers and students in China see the prospects for the development of ties as positive.
Chinese who have favorable opinion towards Japan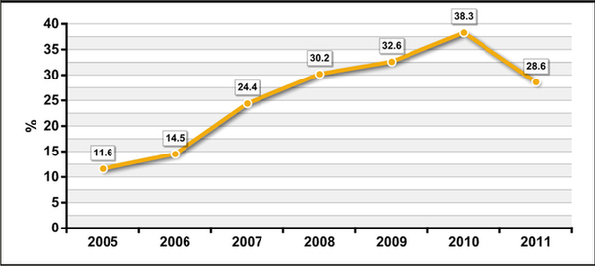 Source: Horizon Research Consultancy Group
[Graphic by chinadaily.com.cn]
But the collision between a Chinese fishing boat and a Japanese patrol vessel in waters near the Diaoyu Islands in 2010 and Fukushima nuclear crisis this year caused a downgrade in the public's positive impression of Japan.
About 28.6 percent of Chinese had a favorable opinion towards Japan, a decline of 10 percent over the last year, the first drop since the annual survey was started in 2005.
When asked about the future of the Japan-China ties, about 58.4 percent of Chinese said territory issues remained the major stumbling block. Lack of mutual trust in the people and disputes over sea resources are the other two main sources of contention for Sino-Japanese relations.
In China, 1,540 citizens in Beijing, Shanghai, Chengdu, Shenyang and Xi'an and 1,000 university students and teachers were polled.
The annual opinion poll, the only one taken synchronously in the two countries, is part of Beijing-Tokyo Forum which will be held from August 21 to 22 in China's capital.
The forum, co-sponsored by China Daily and Genron NPO, has been held alternately in Beijing and Tokyo since August 2005. The annual gathering is one of the most significant platforms for non-governmental communication between the two countries.
Highlights of the poll: 
The first word Chinese think about Japan?
About 49.9 percent of ordinary citizen say electronic products, followed by the Nanjing massacre, Sakura, the Fuji Mountain, and Japanese cuisine when asked. Some 45.5 percent of university students and teachers mention the Nanjing massacre first, followed by Sakura with 40.6 percent and anime/cartoon at 35.7 percent.
Japan's economy
About 63.5 percent of Chinese residents and 68.9 percent of university students and teachers agree that the development of Japan's economy is beneficial to China.
Importance of non-governmental exchanges
More than 78 percent of Chinese pollsters think non-governmental communication is "very" or "quite" important for the two nations to improve ties. Cultural exchanges, communication between media groups, international student programs, communication in the education sector, talent exchanges in private companies and communication between scholars or researchers in the two countries are all fields related to those exchanges.
Understanding Japan
Over the past seven years, the media remains the major channel for Chinese people to understand Japan. The year 2011 was no exception with about 86.8 percent of Chinese polling this way. Other channels include Chinese TV series, TV programs, movies and books.
Fukushima nuclear crisis
About 50.9 percent of Chinese residents and 68.1 of students and teachers think the Japanese government's handling of the crisis remains "problematic." Pollsters cite the lack of consideration given to the impact on neighboring countries and the incomplete disclosure of timely information.