BEIJING -- Xinhua was authorized to release a signed article Sunday to reveal how the Dalai Lama clique plotted and incited the Lhasa violence on March 14 which killed at least 18 civilians and one police officer.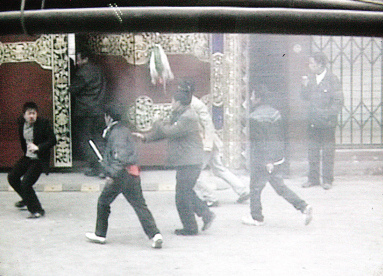 Several rioters, with knives and sticks, chase an innocent man in Lhasa during the March 14 riots. [Tibet Daily] more photos
The story by Yi Duo says it was untrue for the Dalai clique to claim that the riot was a "spontaneous peaceful protest" which the Dalai Lama has had nothing to do with.
AN INSIDER'S CONFESSION
An unnamed suspect in connection with the Lhasa violence has confessed to the police that the "security department" of the "Tibetan government-in-exile" asked him to hand around leaflets promoting the so-called "Tibetan people's uprising movement" to civilians and monks in Tibet, according to the article.
Special coverage:
Lhasa Riots

Related readings:


 Foreign diplomats visit Lhasa after March 14 riot


Hu talks with Bush on Tibet


Students rap media 'hegemony'


Tibetans speak about experiences

Slideshow: Tibetan cultures thriving


Photos: Injured innocents


Readers comment on West media bias


Slideshow: March 14 Lhasa riots


381 rioters surrender to police
"The violence on March 14 was related to the instigation done by the 'security department' of the 'Tibetan government-in-exile'," the suspect said.
"For the sake of protecting myself, (the Dalai Lama clique) asked me not to participate in the demonstrations in person, just in charge of stirring people up," the suspect said.
"The beating, smashing, looting and burning were by no means peaceful demonstrations, and the deeds were inhuman," the suspect admitted. "If they (the Dalai Lama clique) wanted to follow the non-violence 'middle way', such violence should have never happened."
On the same day when violent mobs attacked innocent Lhasa civilians, a closed-door meeting was held by the Dalai Lama clique on how to enlarge the "achievements," the article said.
FOLLOW-UP PLOTS
The meeting finally decided to mobilize all monasteries in Tibet each with more than 100 lamas, especially those of the Yellow Sect in Tibetan Buddhism, and ask monks to take to the street and involve common Tibetans in the demonstrations. The meeting also plotted to launch continuous protests by various stages in Tibetan-inhabited areas.