As of noon on Monday, 381 people involved in the riots in the Tibetan-inhabited Aba county of Sichuan province had turned themselves in to police, the local government said yesterday.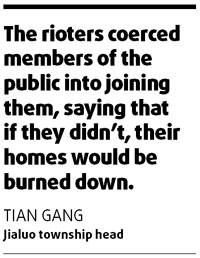 Law enforcement authorities in Aba issued a notice last Wednesday, urging those engaged in the riots that broke out in the county on March 16, to surrender within 10 days. In the meantime, related legislation, such as the Criminal Law and Anti-secession Law, were widely publicized through the local media.
"Most of those who have come forward are ordinary people and monks who were deceived or coerced," Shu Tao, party chief of the village of Luoerda, where 63 people have handed themselves in to police, said.
Tian Gang, head of the Jialuo township said: "The rioters coerced members of the public into joining them, saying that if they didn't, their homes would be burned down."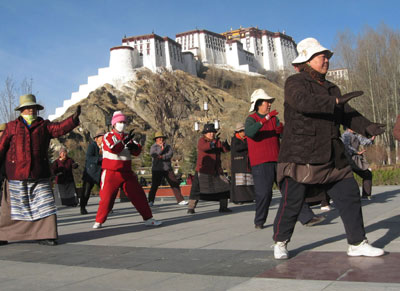 A group of elderly people practice tai chi in a park near the Potala Palace yesterday morning. Daily life for residents of Lhasa has returned to normal following the recent riots.  [Xinhua]
Situated on the Qinghai-Tibetan Plateau, Aba has a population of 63,000, 90 percent of whom are Tibetan, and 42 Tibetan Buddhist monasteries.
At noon on March 16, about 800 people, including monks from the Geerdeng Monastery, the largest in Aba, threw stones at on-duty policemen, while shouting "Free Tibet", "Long live the Dalai Lama" and waving flags of the so-called "Tibetan government-in-exile", Tian Gang said.
At the same time, more than 300 monks forced through the police cordon, rushed into the streets and coerced members of the public to join them, he said.
At about 3 pm, another 1,000 people from neighboring villages joined the riot. The gangs assaulted people, smashed property, looted shops and stormed government buildings, police stations, hospitals, schools and banks, Tian Gang said.
On March 17, more than 200 nuns stirred up trouble by holding up photos of the Dalai Lama and parading through the main street downtown, local police said.
Between March 16 and 19, rioters burned down government buildings in five villages and smashed police stations, schools, hospitals and rural credit cooperatives.
"After burning down the township government building, the gang lowered the national flag and replaced it with the flag of the so-called Tibetan government-in-exile," Tian Gang said.
Policeman killed
Meanwhile, authorities in the Garze Tibetan autonomous prefecture of Sichuan province said yesterday that one policeman was killed and several others were injured during the latest riots in the prefecture on Monday.
A group of rioters attacked armed police officers with knives and stones at 4:30 pm on Monday, a local official said.
Police officer Wang Guochuan, a native of Sichuan, was killed on the spot, and several of his colleagues were wounded, the official said.
"The police were forced to fire warning shots, and dispersed the mob," the official said, adding that an investigation is under way.