JOHNSTOWN - Barack Obama refused Saturday to go along with other Democrats who are calling for Hillary Rodham Clinton to step away from the race for the Democratic presidential nomination.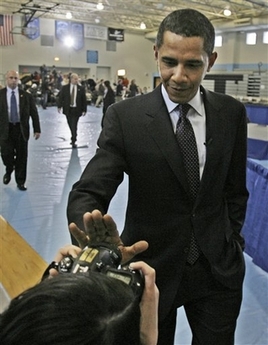 Democratic presidential hopeful, Sen. Barack Obama D-Ill., playfully extends his hand over the lens of photographer Scout Tufankjian after he spoke to the media at Greater Johnstown High School in Johnstown, Pa., Saturday, March 29, 2008. [Agencies]
"My attitude is Senator Clinton can run as long as she wants," Obama said.
Obama told reporters he did not agree with one of his supporters, Vermont Sen. Patrick Leahy, when he said earlier this week that Clinton cannot win the nomination and should therefore drop out. "I hadn't talked to Pat about it," Obama said.
At stops throughout the day, Clinton raised the question of whether she should leave the race - eliciting loud jeers from supporters.
"There are some people who say we should just stop these elections. 'Enough people have already voted, what's a few million more?'" Clinton said in Louisville, Ky. "I don't know about you but I'm glad Kentucky is going to be voting and you'll be choosing because it's such an important election." The state holds its primary May 20.
Campaigning in Pennsylvania, her husband, Bill Clinton, said party insiders looking to resolve the contest should step back and allow the process to move forward.
"We just need to relax and let this happen. Nobody's talking about wrecking the party," the former president said. "Everywhere I go, all these working people say: 'Don't you dare let her drop out. Don't listen to those people in Washington, they don't represent us.'"
The campaign on Saturday released a fundraising e-mail, signed by Bill Clinton, asking supporters to challenge talk of his wife departing the race by sending a check to her campaign.
"There's no better way to tell Hillary that you support her staying in than to make a contribution to her campaign," he wrote.
Obama offered a bit of tough love to Pennsylvania voters, saying some industrial and manufacturing jobs may not return to this steel region, but others could take their place.
Clinton also stressed job creation at campaign stops in Indiana and Kentucky, vowing to help manufacturers transition to new industries like clean energy and ending tax breaks for American companies that ship jobs overseas.
"I think this election, particularly here in Indiana, is about jobs, jobs, jobs, jobs, jobs, jobs," the former first lady said.
Jobs and the economy are front and center in the remaining primary contests between the two Democratic hopefuls. Pennsylvania, which holds its primary April 22, has seen its manufacturing base and especially its steel industry weakened in recent decades, as has Indiana, which votes May 6.