BEIJING - The International Monetary Fund has cautiously backed plans to redistribute voting power among its 185 member countries, with some emerging and developing economies gaining more influence and others losing.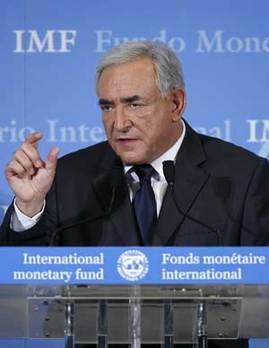 In this file photo France's new head of the International Monetary Fund Dominique Strauss-Kahn answers journalists questions during a news briefing in Paris Oct. 1, 2007. [Agencies]
The move would boost the voting shares of emerging economic powers China, India, Brazil, Mexico, South Korea. At the same time, it would reduce that of others like Russia, Egypt, Saudi Arabia, Venezuela, Argentina, Chile and South Africa.
The IMF board recommended the changes to its full membership for a final vote next month.
If approved, it will be one of the most comprehensive overhauls of the IMF's voting system in 60 years, aimed at recognizing the rapid rise of economies such as China and India.
IMF Managing Director Dominique Strauss-Kahn said on Friday the agreement was a major step forward to rebalance the voting power from over-represented countries to under-represented ones, although he acknowledged it was not perfect.
"I'm not pretending that the reform is done and that now it is perfect and that representation of the different countries is exactly what we should expect. No," Strauss-Kahn told a news conference in Washington.
Related readings:


 IMF to boost transparency of sovereign wealth funds


 Economies need better IMF advice


 Top IMF official sees 10% growth for China


 India, China not immune to slowdown - IMF
The decision reflects members' commitment to improving the IMF's effectiveness, credibility and legitimacy. "These were not easy advances. Difficult compromise was necessary by all fund members to reach this point," he said.
Strauss-Kahn said agreement was reached to revisit the issue every five years, which would periodically raise the voting shares of under-represented members according to a new voting formula approved on Friday.
All but five of the IMF's 24-member board members supported the changes. Egypt, Iran, Saudi Arabia, Russia and Argentina opposed the move.