New Delhi - India, China and other emerging economies are in the "perfect storm" of global financial risk sparked by the US credit crunch and should mull steps to avoid a sharp downturn, the IMF chief said Wednesday.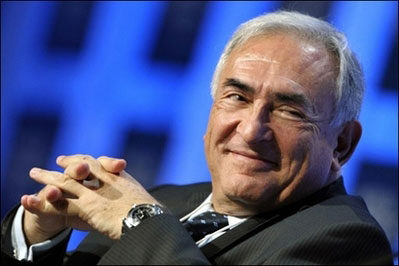 Director General of International Monetary Fund Dominique Strauss-Kahn at the World Economic Forum in Davos in January 2008. [Agencies]
International Monetary Fund director general Dominique Strauss-Kahn told a meeting of Indian economists that large fast-growing economies like India and China had not "decoupled" from poor growth prospects in the US and Europe.
"The industrial and emerging economies are like two horses yoked together," Strauss-Kahn told the Indian Council for Research on International Economic Research.
"If one is tired, the other can take up more of the strain for a while. But if one stops in its tracks neither is going to get very far."
To combat the risks to global economic growth, Strauss-Khan called on emerging market countries to be ready to cut interest rates and spend more money, the same efforts the Washington-based fund has urged for industrial nations.
"In economic policy, emerging economies could consider how they would respond to a downturn: how much scope there is for monetary easing in some countries; how much scope there is for fiscal stimulus in others," he said, while cautioning that any extra spending should be temporary and accompanied by other policy measures like exchange rate flexibility.
He noted that some countries may not have much scope to ease monetary policy or increase spending, but said there needs to be a concerted global effort to boost the world economy.
"I think that the trade links that bind emerging and industrial economies together are still tight - and perhaps are tighter than they seem from a casual examination of trade figures."
Last month, India's central bank held key interest rates steady, saying the risk of higher inflation had increased despite global threats to economic growth and financial stability, while China has also warned that rising prices require tight monetary policy in 2008.
On the other hand, the US government has prepared a 150-billion-dollar package to stimulate its flagging economy, while the Federal Reserve has slashed interest rates.
But other G7 nations have shown less appetite for fiscal measures to boost domestic demand, particularly Japan which has huge national debts.
Strauss-Khan arrived in India a week after he met with finance ministers from Britain, Canada, France, Germany, Italy, Japan and the United States in Japan to discuss ways to limit the fallout from the subprime loan crisis.
Pressure to raise interest rates in China
Regulators in China faced the pressure to raise interest rates due to rising inflation, a senior adviser to the central bank said.
Currently China's interest rates are relatively low, and consumer prices are relatively high and some short-term deposit rates are still negative in real terms, Fan Gang said in a report published by the People's Daily on Thursday.
"From this perspective, there is still pressure in the economy to raise interest rates," he said.
In addition, steps by Washington to boost the US economy would increase pressure on the yuan to rise and may boost hot money inflows into China, according to the economist.
As such, a tight monetary policy was still needed to curb inflation and prevent the economy from overheating, he said. The central bank has raised interest rates six times and increased banks' reserve requirements 11 times since 2007.
However, Fan also pointed to factors that call against further rate hikes.
The country's macroeconomic controls should be responsive to changing conditions both at home and abroad, referring to US economic slowdown and the snowstorms that ripped through South China, he told the paper.
Regulators also needed to take account of recent deep cuts in US interest rates; otherwise, more international speculative money would flow into China.
"Policy makers need to make a proper decision in light of varying circumstances whether to use quantitative measures more frequently and rely less on raising interest rates," he said.