DEKALB, Ill. - A man dressed in black opened fire with a shotgun and two handguns from the stage of a lecture hall at Northern Illinois University on Thursday, killing five people and injuring several others before committing suicide, authorities said.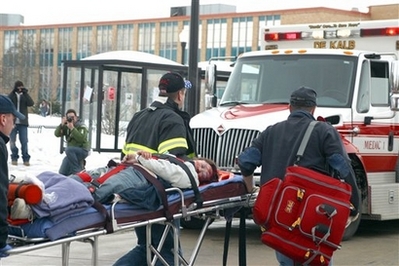 In this photo provided by the student-run Northern Star newspaper, rescue workers carry an unidentified victim from the scene of a shooting at a lecture hall at Northern Illinois University in DeKalb, Ill., Thursday, Feb. 14, 2008. [Agencies] 
University Police Chief Donald Grady confirmed the deaths following a news conference, according to local newspapers.
It was not clear whether the dead victims were among the 18 people school President John Peters had reported as wounded. He wouldn't confirm any fatalities other than the gunman.
Witnesses in the geology class said "someone dressed in black came out from behind a screen in front of the classroom and opened fire with a shotgun," Peters said.
The gunman shot himself on the stage after a brief rampage that sent terrified students screaming, crying and running for the doors around 3 p.m.
Lauren Carr said she was sitting in the third row of the lecture hall when she saw the shooter walk through a door on the right-hand side of the stage, pointing a gun straight ahead.
Related readings:


 Student critically wounded in US school shooting


 Eight killed in Finnish school shooting


 Teen arrested in Wash. school shooting


 5 girls dead in US school shooting

 Bush 'troubled' by school shooting
"I try to be a good student and sit close to the front and this is what happens," said Carr, a 20-year-old sophomore. "I personally Army-crawled halfway up the aisle ... I said I could get up and run or I could die here."
She said a student in front of her was bleeding, "but he just kept running."
"I heard this girl scream, 'Run, he's reloading the gun.'"
Grady said the gunman was not a student at the school. "It appears he may have been a student somewhere else," he said, adding that police had no apparent motive.
Seventeen victims were brought to Kishwaukee Community Hospital in DeKalb, according to spokeswoman Theresa Komitas. One died, two were admitted and three were discharged; five are being evaluated and six others were transferred to other hospitals in critical condition. At least one male died at OSF St. Anthony Medical Center in Rockford, an official said.