Weather conditions in southern China will remain severe and relief work a difficult task, Chinese leaders warned the nation on Sunday when disaster-hit areas reported mixture of good and bad news.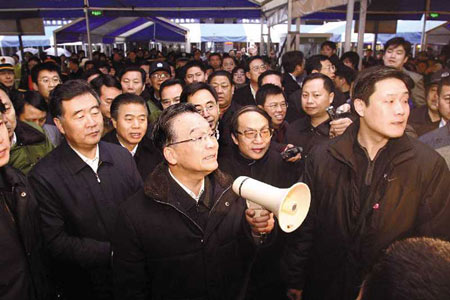 Chinese Premier Wen Jiabao (C) speaks by a loudspeaker to the stranded passengers at Guangzhou Railway Station in Guanghzou, South China's Guangdong Province on January 30, 2008. [Xinhua] 
The warning came after a meeting of the Standing Committee of the Political Bureau of the Central Committee of the Communist Party of China (CPC) in Beijing on Sunday. It was chaired by President Hu Jintao and studied the current relief work.
Chinese Premier Wen Jiabao, one of the nine members, has just concluded his second visit in a week to Hunan Province which was worst hit  by the unusual winter weather.
Wen's last stop, Chenzhou City, is still suffering blackout and lack of tap water due to failure of utility facilities caused by heavy snow.
Wen paid home visits to local residents during his stay there Saturday afternoon.
Xie Yunqing, one of the 4 million city residents, received the Premier at her house which had been short of electricity for ten days.
She told Wen that the local government has sent battery-powered lamps and foods.
"Please be patient. The situation will be better in a few days as the government is going all out to help you. Technicians rushed here from across the country to help fix the power transmission facilities," Wen said.
The Premier asked local authorities to "act now, don't wait."

LEADERSHIP WARNING
"We have to be clear minded that certain regions in the south will continue to undergo icy weather caused by rain and snow and severe disasters will continue," said a statement issued after the meeting of the Standing Committee of the Political Bureau of the CPC Central Committee.
The worst winter disaster in five decades had sacked 19 out of 31 provinces, municipalities and autonomous regions in the Chinese mainland. By Friday, more than 60 people were killed in winter storm and nearly 1.76 million relocated in the past two weeks but the latest casualty figure are not available so far.
"Relief work will remain very grim, posing a tough task on us," the statement added.
Premier Wen said during his visit in Hunan, "We have the faith, courage and ability to overcome the severe natural disaster no matter how the weather will change."