BEIJING - China's railway watchdog has warned passengers not to worsen overcrowding at stations by flocking to the country's slowly-recovering rail network.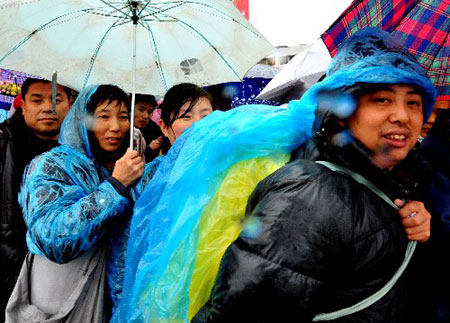 Passengers in Guangzhou Railway Station. [Xinhua] 
Rail shipping capacity on the southern section of the Beijing-Guangzhou trunk rail line is gradually recovering from the snow snarl but remains limited, said Wang Yongping, Ministry of Railways spokesman, on Saturday.
He said stranded passengers must be sent on their way first, and advised others not to swarm train stations in case of causing traffic jams or wasting their time.
At least 1.4 million passengers in Guangzhou were still waiting to leave on trains at 6 a.m. on Saturday, the ministry said.
Wang said the 1.4 million people could board home-bound trains before the Spring Festival, or the Chinese Lunar New Year, which is five days away.
The worst freezing weather the country has seen in the past five decades has wreaked traffic havoc across central and southern China since mid-January.
The local government has spared no effort to disperse the held-up passengers, but many had rushed back to the station since Wednesday after hearing railway traffic is resuming, trying to get a train home for family reunion ahead of the festival.
"The railways can't go beyond their capacity to meet everyone's need," Wang said. "We have to say sorry to those who couldn't get tickets."
Meanwhile, authorities urged on Saturday that local tourism watchdogs must prevent tourists from entering snow-hit regions and release weather information in a timely fashion.