NANCHANG - He Guoqiang, a senior leader of the Commuinst Party of China, said the needs of the people must come first during a visit to the snow-hit eastern Jiangxi Province.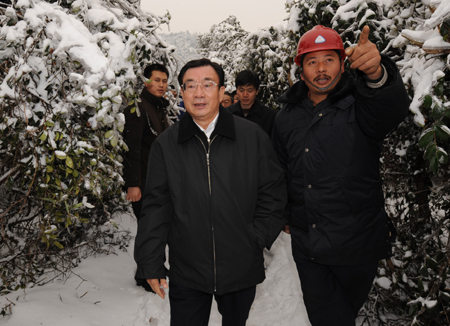 He Guoqiang visits Miaozhi Village in Jiujiang where technicians have been repairing an electricity transmission line for eight days and nights, January 31, 2008. [Xinhua] 
"The disaster in Jiangxi is still developing. We are facing a tough task," said He, a member of the Standing Committee of the Communist Party of China (CPC) Central Committee's Political Bureau. "It is our most urgent task to fight the disaster and carry out relief work."
He, the eighth top leader of the CPC to venture into the field to join the relief efforts, has been in Jiangxi since Wednesday. He has been entrusted by Chinese President Hu Jintao to direct disaster relief work and condole local residents.
"Party and government leaders of all levels shall be on the spot of the most-affected regions," He said. "They shall put the people's needs first."
In the past two weeks, unusual freezing weather, icy rain and heavy snow have hit most of Jiangxi, affecting traffic, power supply and people's daily lives.
A new round of heavy snow has fallen in northern Jiangxi since Thursday evening. By Saturday morning, 66 provincial counties were blanketed by at least two centimeters of snow. The snow was thicker than 10 cm in 21 of the counties.
He visited the airport and the Nanchang railway station in the provincial capital upon arrival and inquired into the operation of flights and trains.
Noticing a newborn baby carried by his mother waiting to board a train, He talked with the woman, Tan Xiaohui, and helped her with the child's woolen cap.
He told Tan to take care of the child and herself and the other passengers to keep warm while wishing them a safe journey home.
His second stop was the bridge across the Yangtze River in Jiujiang, a major juncture of a trunk road.