Chinese Premier Wen Jiabao on Thursday described the just-concluded Sino-US Strategic Economic Dialogue (SED) as "fruitful".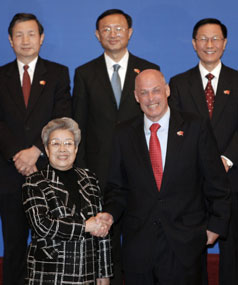 Chinese Vice-Premier Wu Yi (L) shakes hands with US Treasury Secretary Henry Paulson during the opening of The Third Strategic Economic Dialogue in Beijing, December 12, 2007. [Agencies]
Wen made the remarks in a meeting with US Treasury Secretary Henry Paulson at the Great Hall of the People in Beijing.
Wen attributed the success of SED to the consensus on the product safety issue, which was the top concern of the two peoples, and to the fact that both countries reached accord on bilateral cooperation in energy, environmental protection and other areas that meet the long-term and fundamental interests of the two peoples.
"This has demonstrated that our strategic dialogue is fruitful, " he said.
Wen said he expected to discuss with Paulson strategic issues, including how to solve bilateral trade disputes, strengthen long-range trade cooperation and face up to the opportunities and challenges of the international situation through strategic dialogue.
China attached importance to the trade imbalance with the United States, Wen said, adding it had taken a series of positive measures to reduce the trade surplus.
"We also hope the US side will attach importance to our concerns, formulate open policies of trade and investment, lift limitations on China's exports and provide a fair environment for Chinese companies to invest in the United States," the premier said.
In response, Paulson said the SED with China had been "instructive". It helped to enhance understanding and build trust, which was very important to settle "sensitive" and "complicated" issues between the two countries.
An economically developed China was in the interests of the United States, Paulson said, adding his country could see no advantage without China's economic growth.
Later on Thursday, Chinese President Hu Jintao also met with Paulson and his delegation. Paulson told Hu that "we are building trust" between the two countries.
"There is comfort between our communication, which makes it easier to deal with our conflicts and difficulties," Paulson said.
Earlier on Thursday, Paulson told reporters the SED with China had been "instructive and constructive."
During the dialogue, China and the United States agreed to conduct extensive cooperation over a 10-year period to focus on technological innovation, adoption of clean technology and sustainable natural resources.
Chinese Vice-Premier Wu Yi and Paulson co-chaired the dialogue as special representatives of the two heads of state.
They agreed to convene the fourth SED in Washington in June next year.