BEIJING -- Captain Jia Jingwei keeps a much closer eye on his regiment's food costs since pork prices across China began soaring from 10 yuan (US$1.3) per kg in May to almost double.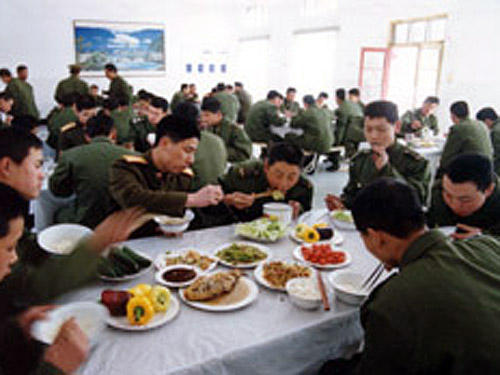 Soldiers eat their meal at a restaurant in this undated file photo. [Xinhua]
"We don't have money to squander," says Jia, director of the supply section of an anti-aircraft regiment of the Beijing Garrison Command of the People's Liberation Army (PLA).
His 1,000 soldiers consume 125 kg of pork a day, which used to cost 1,250 yuan (US$164). Since the price hike, the daily cost of pork has risen by more than 1,100 yuan (US$144.7), equal to the daily subsidy for 100 personnel.
Even the prices offered by a slaughtering and processing plant that has a long-term meat supply contract with Jia's regiment went up.
"Without careful planning, it is difficult to get good food for only 11 yuan a man," says Feng Liang, director of the military supply division of the PLA's General Logistics Department, adding that an increase in food subsidies this year can ease the impact caused by the pork price hikes.
Feng says China's defense budget is relatively small both in terms of sums and per capita amounts.
"To ensure good meals we have to practice economy."
A Food Revolution
"Red rice, pumpkin soup, Dig wild vegetables as our food, "Commissioner Mao is with us, Every meal will be tasty."
This couplet from the song "Commissioner Mao Is with Us" originated in the Jinggangshan Revolutionary Base in east China's Jiangxi Province where Mao Zedong, then an alternate member of the Political Bureau of the Communist Party of China (CPC) Central Committee, successfully led the Autumn Harvest Uprising in the Hunan-Jiangxi Border Region in 1927.
As one of the most popular "revolutionary songs" still sung today, it reflects the hardships the CPC-led Red Army in fighting the Kuomintang troop.
Red rice and pumpkin soup are local specialties in the Jinggang Mountains and a part of the visitor experience today.
The red rice, a coarse staple, was eaten without much seasoning in 1927, and the pumpkin soup was commonly described as "not revolutionary enough" as hunger usually returned very soon after its consumption.
Without a regular supply chain, the Red Army, later renamed the People's Liberation Army, drove back the invading Japanese army  and defeated the Kuomintang with its simple "xiaomi jia buqiang"  or "millet and rifle" approach.
Today's PLA has updated the refrain with "nutritious food and long-range missiles". Since 1978, China has increased military food subsidies 24 times.