SHANGHAI: Competition in the 2007 Special Olympics World Summer Games was in full swing Thursday as intellectually disadvantaged athletes from 164 nations and regions participated at a number of venues, pushing the limits of their own bodies.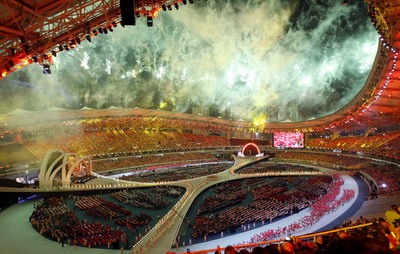 Fireworks light up the stadium during the opening ceremony for The Special Olympics in Shanghai October 2, 2007. [Agencies]
Zhou Shuyun, 18, a Shanghai athlete, joined dozens of her peers in a motor skills training program designed for people with severe intellectual disabilities.
The slim girl, with a big medal swinging in front of her chest, sat cheerfully on the sidelines, letting out periodic shrieks of joy.
Zhou, who is too weak to participate in competitive events, had minutes before pushed a ball as hundreds of encouraging spectators and family members cheered her on. She could barely speak to communicate with other competitors.
"It (the ball push) is the simplest thing for an ordinary person - but a miracle for my daughter," said Zhou's mother Xu Yi.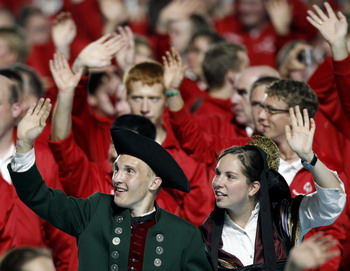 Members of the German delegation attend the opening ceremony for the Special Olympics in Shanghai October 2, 2007. [Agencies]
Since the girl, the only child of the family, was diagnosed with serious disability at the age of two, the mother has been caring for her full time at home. The teenager relies on assistance from others to eat and walk.
"It's hard to describe how heartbreaking it was when I learned of my daughter's disability," Xu recalled. "But after so many years I became tranquil with that reality and feel happy for each minor bit of progress she has made."
She added that society has become inclusive to its weakest members, especially in recent years. Activities have been organized and care centers for the well being of those with intellectual disabilities have sprung up across Shanghai.
"Everyone here is very excited and my daughter had been talking all the way to the sports center," said the mother of Zhou Lepei, 27, a Shanghai athlete with a severe intellectual disability, who also participated in the program Thursday.
The Shanghai Special Olympics, the first of its kind held in Asia, has been a great success thus far. "Shanghai and China have given us a new benchmark," said Jim Grossman, co-chair of 2009 Special Olympics World Winter Games, which will be held in Idaho, the United States.
"We won't be able to match what China has done, frankly."
Stunned by Tuesday's phenomenal opening ceremony, Grossman, leading half of the board members for the Winter Games, said his emotional highlight was when two intellectually disabled athletes slogged through sections of the Great Wall restructured by hundreds of martial artists. "We had the hearts and spirits (there)," he said.
A veteran of the Special Olympics movement, the co-chair has witnessed China's growth from a "society that didn't recognize people with intellectual disabilities" to one of the "leaders the world in respect, understanding, appreciation and value for all the members of society".
"You have done in seven years what took 30 years in the US," he said. "I can only imagine what will happen in seven years from now."
(China Daily 10/05/2007 page2)