More than 1,000 tourists got lost in Tiananmen Square on Monday as hundreds of thousands of people flocked there to celebrate National Day.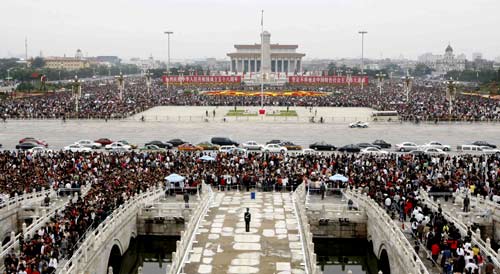 Tourists crowd into the Tiananmen Square in Beijing on National Day, October 1, 2007. China celebrates the 58th anniversary of the founding of the People's Republic of China on Monday. [Agencies]
Beijing police in charge of the square area said Tuesday they received 1,576 requests for help or telephone calls from tourists seeking friends or relatives lost in the throng.
The number of wayward revelers was up 500 on May 1, the first day of the week-long Labor Day holiday. Most who went astray were not from Beijing and not familiar with the famous tourist site, police said.
What happened at the world's largest square reflects the huge temporary migration during the country's week-long National Day holiday.
Police estimated that about 1 million people from across the country visited Tian'anmen Square on Monday, the first day of the seven-day holiday.
They included the 200,000 spectators who attended the national flag raising and lowering ceremonies in the morning and afternoon.
The Beijing environment bureau said the hordes left behind about 14 tons of garbage on the 440,000 sqm square, which is the size of 64 football fields.
More than 500 sweepers worked in two shifts around the clock to make sure no piece of litter lay on the ground for more than 20 minutes, the bureau said.
More than 20,000 sanitation workers are mobilized in Beijing each day during the October holiday.
But the bustling crowds are good news for shops and restaurants.
The Beijing Commercial Information Consulting Center said consumers had spent more than 400 million yuan ($51.6 million) in the city on Monday, 6.3 percent more than last year.
The center said the amount included 134 million yuan ($17 million) for department stores, 160 million yuan ($20 million) for supermarkets and 9.16 million yuan ($1.18 million) for restaurants.
Experts with the center said clothing, home appliances, cell phones and jewelry were all popular items during the holiday.
Nationwide, the National Holiday Office said Tuesday that 119 scenic spots in its monitoring system had received 1.98 million tourists on Monday and 3.03 million tourists Tuesday.
A record of 5.72 million passengers traveled by train and another 582,800 passengers by air on Monday.
No major accidents were reported across the country, except for a 54-year-old Thai woman who died of a heart attack on Monday when she visited a temple in Southwest China's Sichuan Province.