CARLETONVILLE, South Africa -- Singing and dancing despite exhaustion, the last of 3,200 miners trapped deep underground for more than a day emerged safely Thursday night, delivering a happy ending but raising questions about the safety of South Africa's important gold mines.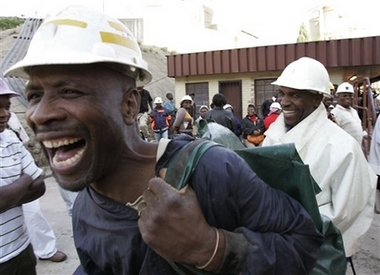 Two of the miners who were trapped overnight, smile as they are greeted at the Elandsrand Gold mine near Carletonville, South Africa, Thursday, Oct. 4, 2007. [Agencies]
Government officials announced that the Elandsrand mine, one of the top producers in the world's leading gold-mining nation, would stay shut for at least six weeks while experts studied what caused a pipe to break and crash down the main shaft Wednesday, knocking out the elevator.
The national miners union threatened unspecified "industrial action" against the mining business, accusing managers of earning fortunes while compromising on safety. It said that among other things, companies have let alternative escape routes flood rather than maintain them.
The final group of 45 workers brought out through an auxiliary shaft normally used to remove debris arrived at the surface shortly before 9 p.m., walking out caked in dust but otherwise healthy a day and a half after the accident.
Amelia Soares, spokeswoman for Harmony Gold Mining Co., said that despite the pipe fall itself and the long hours spent by miners waiting for rescue a mile below the surface, only one health problem was reported -- a worker who had to be treated for dehydration.
Rescuers transport an injured mineworker, who was trapped underground at the Harmony Gold mine in Carletonville, west of Johannesburg, October 4, 2007. [Agencies]
"We can only be grateful and satisfied that not one single life was lost," Soares said. "Spirits are high and we are all very pleased."
Waiting their turn to get out, the miners gathered near a ventilation shaft, and the company lowered water and food to them.
The miners were trapped when a pipe carrying pressurized air exploded and tumbled into the elevator shaft Wednesday morning, breaking electricity lines powering the main elevator. Some of the 3,200 men and women stranded had entered the mine for the Tuesday night shift.
A smaller elevator cage had to be rigged to raise the miners out another shaft, and the first group reached the surface about 1 a.m. Thursday. The company had expected the rescue to take 10 hours in all, but it lasted nearly twice that long.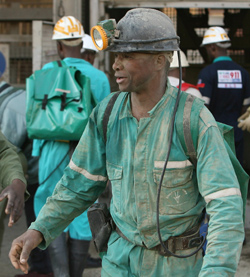 A rescued mine worker leave the pithead at the Harmony Gold mine in Carletonville, west of Johannesburg, October 4, 2007. [Agencies]
"We nearly died down there," one rescued miner yelled as he walked past reporters Thursday afternoon. "I'd rather leave (the job) than die in the mine."
One large group of tired-looking miners left the rescue shaft singing traditional songs and stamping their feet with joy. They were greeted by a crowd of ululating female miners.
While relatives joyfully greeted the miners, there were complaints that they had not been given enough information while they waited anxiously during the rescue operation.
"I am very traumatized, exhausted, not knowing what is going on," said Sam Ramohanoe, whose wife, Flora, was one of the trapped miners. "It is very unfair to us, not knowing what is going on with our beloved ones."
Anger was also evident over Harmony not informing the government or public that more than 3,000 workers had been trapped.
The National Union of Mineworkers was the first to alert the nation to the potential disaster, and its report that the miners had been trapped didn't come until 15 hours after the accident.
The union charged that the mining industry, one of South Africa's most important revenue earners, has cut corners on safety standards and does not properly maintain mines. It warned companies that if safety isn't addressed, it will "hit their pockets big time in the near future."
The mine owner and South Africa's minerals and energy minister vowed to improve safety.
"We have to recommit ourselves to refocus on safety in this country; our safety record both as a company and an industry leave much to be desired," the South African Press Association quoted Harmony Gold's chairman, Patrice Motsepe, as saying.
Buyelwa Sonjica, the government's minister for minerals and energy, said the Elandsrand mine would not be allowed to reopen for at least six weeks while experts checked it. She also said health and safety legislation would be "tightened up."
Last year, 199 South African mineworkers died in accidents, mostly rock falls, the government reported in September. One worker was killed last week in a mine next to Elandsrand.
Sonjica criticized Harmony for not immediately informing the government of the accident. She said that both she and President Thabo Mbeki learned about it from the late evening news, long after it happened.
"You cannot hide 3,000 people who are trapped underground," Sonjica said. "I find it very queer, strange, that they did that. As to whether they were covering up it is difficult to tell at this point."
Soares, the Harmony spokeswoman, said the mine had won a number of safety awards and never had a fatal accident. She said the company was likely to suffer considerable losses in output during the closure.
Harmony's per-share price on the Johannesburg Stock Exchange dropped 2.86 percent to close at 74.06 rand a share, or about $10.69. JPMorgan analyst Allan Cooke said the accident would hurt Harmony's earnings, especially if the mine remained closed for the entire quarter.
Harmony said Elandsrand produces an average of about 1,300 pounds of gold every month.
Thabo Gazi, chairman of the Mine Health and Safety Council, a group of government, labor and employer representatives that advises the government, said it would investigate the Elandsrand accident.
He said he had already raised concerns with the government that safety standards were being compromised in the drive to ensure maximum profits for minimum costs.
But Terence Creamer, editor of Engineering News and contributing editor for Mining Weekly, a leading engineering and mining publication, said mining companies cannot risk ignoring safety issues because of the high costs associated with accidents and production stoppages.