ELANDSRAND MINE, South Africa - Rescue teams working to save 3,200 miners trapped deep underground in a South African gold mine brought 1,350 to the surface on Thursday morning, mine and union officials said.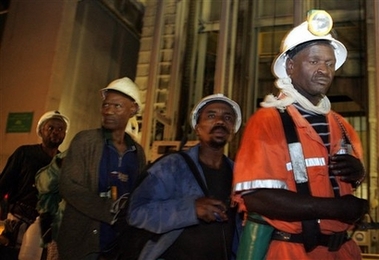 Mine workers come out of the cage at Harmony Gold's Elandsrand Mine south west of Johannesburg, South Africa, Thursday, Oct. 4, 2007. [Agencies]
Mine owner Harmony Gold said the rescue operation was going smoothly and that a secondary lift was bringing up batches of miners stranded underground when the electricity cable of the main lift was cut in an accident.
But the powerful mining union said it suspected negligence was behind the accident and vowed to push gold firms to build secondary, or emergency, exits in the mine.
Chief Executive Officer Graham Briggs told Reuters he was confident all the miners would be lifted to the surface in a small elevator at the Elandsrand mine near Carletonville, southwest of Johannesburg.
"There have been no injuries or deaths ... It may take as long as 10 hours, the cage (lift) is traveling fairly slowly to avoid risks ... I'm very confident all will come out," Briggs said.
Briggs said production at the mine had been halted and would remain shut down until an investigation had been carried out and the damage repaired. Harmony is the world's fifth biggest gold producer.
But the National Union of Mineworkers (NUM) said it suspected that negligence and Harmony's practice of mining 24 hours per day caused the accident.
"We suspect negligence. Because of continuous operations there is no time to make adequate checks," NUM President Senzeni Zokwana told reporters.
Zokwaba said emergency exits were needed to give workers an alternative escape route. "The manner of mining is a problem, we want to push the companies to build secondary exits, linked to the neighboring mine," he said.
The first miners emerged at around 2330 GMT, after being trapped 2.2 km (1.4 miles) underground for over 15 hours. Between 150 and 200 women miners were among those trapped.
"I feel happy to be on the surface. it was hot, dusty and I am quite hungry now," said 27-year-old Zandile Sindiwe, as he walked out of the elevator into a cold, windy night.
By 0520 GMT, 1,350 mineworkers had been brought to the surface and mine officials said they hoped to have the remaining workers above ground by early afternoon.
An NUM spokesman said earlier that the miners were trapped in a cramped space where temperatures could reach 30 to 40 degrees Celsius (86-104 Fahrenheit).
The miners were caught after an air pipe broke off and hurtled down the shaft, damaging steelwork and severing an electrical cable carrying power to the main lift, Briggs said.