CCPIT deal to accelerate Mobike's global expansion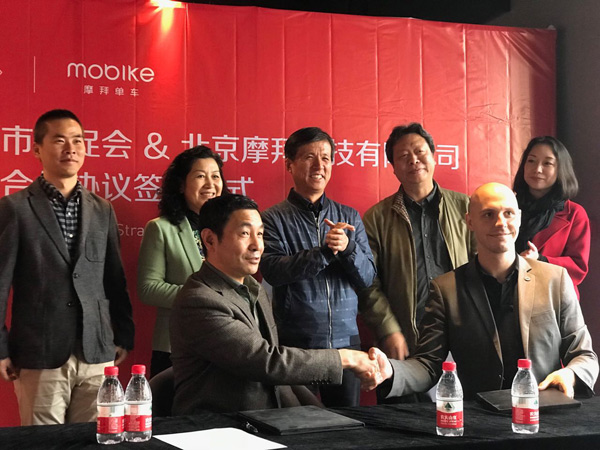 Chinese bike-sharing company Mobike announced on Oct 20, 2017, it had signed a contract with the CCPIT Beijing. [Photo provided to chinadaily.com.cn]
Chinese bike-sharing company Mobike announced on Friday it had signed a contract with the China Council for the Promotion of International Trade, Beijing Sub-council, as part of its efforts to enter the global bike-sharing market.
CCPIT Beijing said it will build a bridge for Mobike to work with local governments worldwide, through its relationships with international chambers of commerce. Mobike will promote its experience in technological innovation, big data analysis and urban traffic management internationally, with CCPIT Beijing's assistance via its global platforms.
Wang Xiaofeng, founder of Mobike, said that the company has been committed to innovating its business model, product and technology. Focusing on facilitating public travel and traffic planning, Mobike will pave its way to entering the global market, Wang added.
"With the support of CCPIT Beijing, we will accelerate our global strategy, striving to launch our bikes in more than 200 global cities in total by the end of 2017. By then, our intelligent platform will accelerate efforts to benefit other countries," Wang said.
Lin Bin, deputy director of CCPIT Beijing, said that the sub-council has built up business ties with a large number of well-known companies, but this is the first time it has cooperated with an innovation-driven company such as Mobike.
"We saw the power of innovation in Mobike and we are very happy to work with them. We will treasure this cooperation and will work together to develop China's Belt and Road Initiative and going-out strategies, making contributions to China's opening-up strategy and the globalization of outstanding companies in Beijing."
Since launching two years ago, Mobike has placed 7 million shared bikes in more than 180 foreign cities in nine countries. With more than 200 million registered users and 30 million rides per day, the company has become a major mobile app-based travel platform.
Mobike can monitor every bike connected to its platform through its internet-based and big data technologies, which is highly convenient for urban traffic managers. Hundreds of variables that influence traffic flows — such as the time, location, weather conditions — can be mined and analyzed from the data collected through its platform.
Mobike was founded in 2015 in Beijing, kicking off its first bike-sharing program in Shanghai in 2016. After that, the company promoted its shared bikes around China and foreign countries including Singapore and the United Kingdom. In June 2017, it was awarded the World Wildlife Fund's Climate Solver Sustainable Urban Mobility Special Award, in recognition of the impact of its innovative technology and promotion of sustainable transportation.
At present, CCPIT Beijing has established business ties with 192 chambers of commerce in 80 countries. It has also built up multilateral platforms, including the Beijing International Conference of Friendly Chambers of Commerce.
It was founded in 1978 under the support of the Beijing municipal government, to serve an array of different purposes, ranging from promoting foreign trade, exchanging advanced technologies and boosting economic cooperation. It now has 4,000 member organizations scattered across 14 Beijing counties and districts. Its staff members include representatives from Beijing economic and trade institutions, companies, associations and groups.