Truck Alliance raises $156m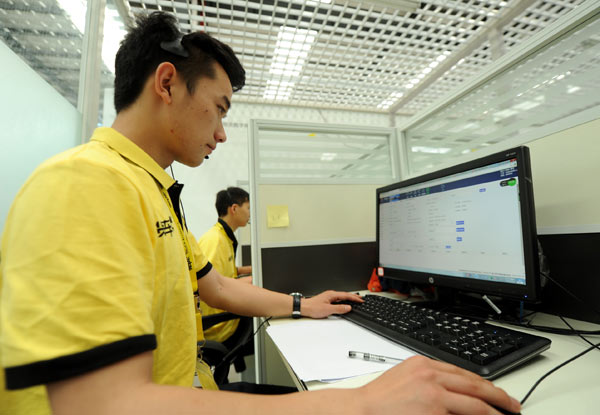 An employee of Guiyang Huochebang Technology Co Ltd communicates with customers at a digital hub in Guiyang, Guizhou province, May 23, 2016. [Photo/Xinhua]
China's Uber-type service for trucks Guiyang Huochebang Technology Co Ltd, also known as the Truck Alliance, said on Tuesday that it had raised $156 million in series B-2 funding, led by Baidu Capital, the investment arm of Baidu Inc, the country's largest search engine.
Chinese investment firm All-Stars Investment Ltd, which led the $115 million series B-1 round of funding in December, and existing investors, also participated in the latest fundraising. Moreover, a B-3 round of financing is expected to be completed soon.
So far, Guizhou-based Huochebang has raised more than $270 million in series B funding, with its valuation reaching more than $1 billion, setting a new record in online logistics platform investment.
The deal marks the second investment that Baidu Capital has made since it was established in October. In March, it jointly led a $600 million round of financing in electric vehicle startup NextEV.
Huochebang said the funding will be used to expand its truck service business and number of users, increase the technological input and attract talent, as well as expand the use of electronic toll charge cards.
Founded in 2011, Huochebang, backed by internet giant Tencent Holdings Ltd, uses big data technology to help truck drivers find commodities to transport, and facilitates truck sales and used truck auctions.
It currently has 2.6 million registered vehicles, 300,000 corporate members and 2.3 million drivers, with 1,000 service centers around China.
In 2015, it finished series A and A+ rounds from Tencent, Hillhouse Capital and DCM, raising more than $100 million.
Wu Wenjie, a managing partner at Baidu Capital, said: "Huochebang impressed us a lot with its business model, scale of platform, and operation. It has a deep understanding of China's logistics market and has established the largest and the only nationwide matching system between truckers and shippers, holding a dominant position in this sector."
Ji Weidong, the co-founder of All-Stars Investment Ltd, said the firm is bullish about the prospects for the integration of the logistics industry and mobile internet.
Yunmanman, Huochebang's biggest rival, has finished several rounds of fundraising from Sequoia Capital, Yunfeng Capital and Lightspeed China Partners in the past three years.
The country is still at an early stage in building a matching system between truckers and shippers in long-haul trucking secotr, said Cai Lili, an analyst at Beijing-based internet consultancy Analysys.