Credit China eyes online payments, P2P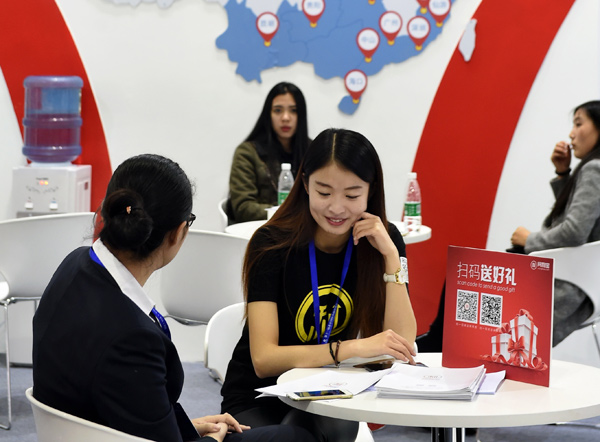 A P2P lender participates at the Beijing International Finance Expo on Oct 29, 2015. [Photo provided to China Daily]
Credit China FinTech Holdings Ltd is planning more investments as it aggressively expands beyond its original loans and lease-financing businesses into online payments and peer-to-peer lending.
The company, part of a consortium that offered to buy a stake in Ping An Securities Group Holdings Ltd last month, is in talks with "multiple" financial-services companies based in Asia outside China, said its CEO Phang Yew Kiat in Hong Kong on Feb 1. The Hong Kong-based firm is targeting at least one more acquisition by the end of the first quarter, he said.
"In order to support my bigger growth, I need to add new things," Phang said. "What's important is we need to have multiple revenue streams."
The firm's acquisition strategy-which is now focused outside China-has been driven by HK$4.3 billion ($554 million) of funds that it raised over the past three years, Phang said.
In January alone, Credit China unveiled a $30 million investment in San Francisco-based blockchain technology firm BitFury Group Ltd and is part of a group that offered HK$664 million for a stake in Ping An Securities.
Since 2013, Credit China's investments have focused on financial technology-related markets such as third-party payments and peer-to-peer lending, a strategy that boosted transactions on its online platforms to 92.6 million last year from 1.8 million in 2014, data provided by the company show.
The acquisitions put Credit China onto the radar of short seller Anonymous Analytics, which expressed doubts over some of the investments in December, as it rated the company a "strong sell".
In a report, Anonymous alleged Credit China had engaged in "a number of questionable" investments, including the purchase of a stake in payment provider Shanghai Jifu, which the short seller said was linked to a "key individual" within Credit China.
Credit China issued a strong denial in response, saying that the report presented "a number of malicious and false allegations, misrepresentations and obvious factual errors" about the company. The claim about Shanghai Jifu was "unsubstantiated," Credit China said, saying that it had access to filings showing that shareholders involved in the transaction were unrelated.
Shares of Credit China in Hong Kong fell 5.3 percent on Dec 13 when Anonymous Analytics released its report, but have since rallied 49 percent. The gain has driven the company's market capitalization to $3 billion.
The firm's investments include third-party payments company UCF Huisheng Investment (HK) Co and a controlling stake in mobile games operator Shenzhen Qiyuan Tianxia Technology Co. Last year, the company made its first majority investment outside China by acquiring a 51 percent stake in Vietnam's Amigo Technologies Joint Stock Co.
Bloomberg