Leshi stocks fall despite a $2.2b cash infusion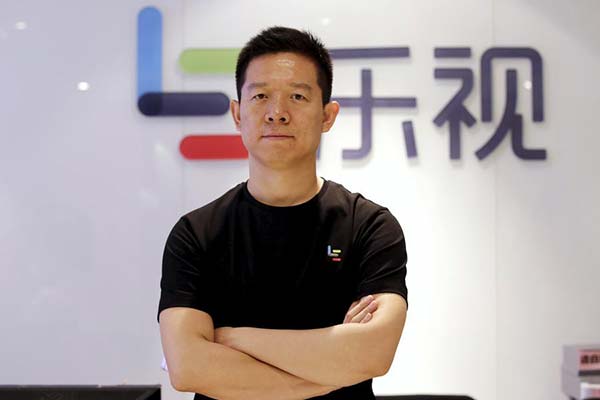 Jia Yueting, co-founder and head of Le Holdings Co Ltd, also known as LeEco and formerly as LeTV, poses for a photo in front of a logo of his company in Beijing, April 22, 2016. [Photo/Agencies]
The Shenzhen-listed unit of Chinese internet major LeEco saw a 1.12 percent decline in its share prices on Monday, despite the claim that a $2.2 billion investment from Sunac China Holdings Ltd could help solve its cash crunch.
Leshi Internet Information and Technology Corp's shares slipped to 35.40 yuan ($5.14) at Monday's close.
Jia Yueting, founder and CEO of LeEco, said at on Sunday that with Sunac's investment, its cash crunch was almost over, but that the new capital would not go into its cash-burning electric car business.
"Sunac is our second-biggest shareholder. We will explore how to use the internet to fuel its real estate businesses," Jia said, adding that its electric car unit would start looking for investors.
LeEco has been under pressure after Jia said in November it was suffering from a financial squeeze due to overexpansion.
Started in 2004, LeEco's businesses ranges from video streaming, smartphone, TV, internet finance to cloud computing.
Shen Meng, director of Chanson & Co, a boutique investment bank, said the deal was just a short-term solution to LeEco's capital shortage.
"Jia also made a concession in corporate management. The deal gave Sunac a board seat at each of LeEco's three units and the right to oversee LeEco's cash flow."
The shares of Sunac fell 8 percent in Hong Kong on Monday as investors questioned whether the bet on LeEco was well-calculated.
But, according to Sunac Chairman Sun Hongbin, the move is part of the firm's broad efforts to seek new sources of revenue.
"The value of the whole real estate industry is around 11 trillion yuan and the scale will remain at a similar level in the following three to five years," Sun said.
"So, we need to find a new growth engine and we are very confident about the prospects for the industry that LeEco is now in."
Conact the writers throughmasi@chinadaily.com.cn