Apple reaches clean energy deal with Goldwind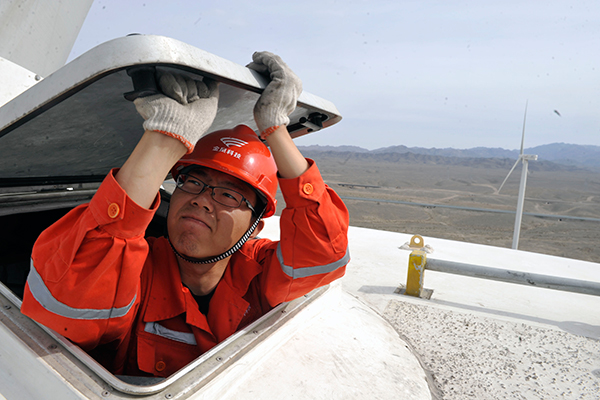 Mao Jun, a Xinjiang Goldwind Science & Technology Co technician, checks a turbine at a wind farm in Urumqi, the Xinjiang Uygur autonomous region. [Photo/Xinhua]
Apple Inc has reached a deal with the world' largest wind turbine maker Goldwind Science & Technology Co Ltd, a further step toward the US tech giant reaching its renewable energy goal.
The deal marks Apple's largest clean energy project and is the first of its kind in the wind power sector, said Lisa Jackson, vice-president of environment, policy and social initiatives at Apple.
Goldwind's wholly owned subsidiary Beijing Tianrun New Energy Investment Co has agreed to transfer Apple its 30 percent equities in four subsidiary companies of Goldwind, the wind turbine maker based in the Xinjiang Uygur autonomous region said in a filing to the Hong Kong Stock Exchange on Wednesday.
The investment "will add 285 megawatts of clean energy to China's grid as part of Apple's commitment to reducing the carbon emissions from its manufacturing", Jackson told China Daily on Thursday.
The involved firms are located in Henan, Shandong, Shanxi and Yunnan provinces. To this end, the joint ventures will empower Apple to supply clean energy to its production partners in China.
She said that the projects, along with a 170-megawatt solar project the company announced in the Inner Mongolia autonomous region last year, are targeting emissions from upstream manufacturing where Apple does not have a direct relationship with the supplier.
Apple has also pledged to partner with its suppliers in China to install more than 2 gigawatts of new clean energy in the coming years. The projects will produce more than 900 million kilowatt-hours of power, equivalent to the amount of energy needed to power 690,000 Chinese homes.
China, as the world's largest wind power market, accounted for 46 percent of all wind power installed globally last year, surpassing the United States, according to data from Bloomberg New Energy Finance.
Apple has long envisioned renewable energy being tapped in its business operations, as CEO Tim Cook required the company's environmental checklists to go along with new product launches.
In April, Apple joined hands with SunPower Corp to build two solar power projects totaling 40 megawatts in the Aba Tibetan-Qiang autonomous prefecture in Sichuan province.
It also partnered with long-term supplier Foxconn Technology Group on new energy plants that are expected to generate 600 MW of electricity, which will be used across all Chinese factories that manufacture iPhones.
Major tech players are jostling to reach the 100 percent renewable energy target, said solar analyst Colin Smith at GTM Research.
"Bigger firms tend to acquire the resources to understand the new energy markets and negotiate contracts to buy renewable energy," he said.
For instance, Google Inc has planned to procure wind and solar energy to offset all the electricity used by its data centers and offices, and pledged to realize the 100 percent renewable energy target by 2017.