Face-recognition startup 'raises $100m'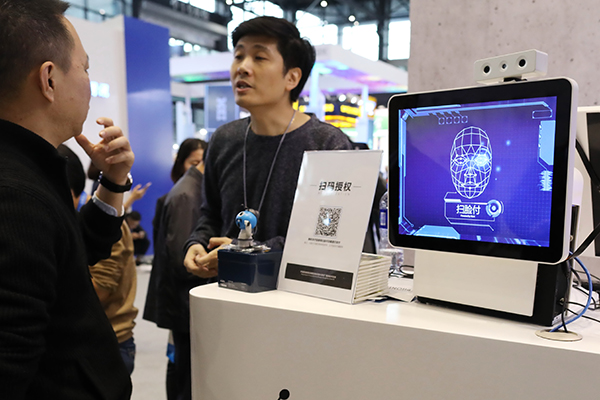 Visitors try online payment through facial-recognition technology at the Ant Financial Services Group booth at an internet expo in Wuzhen, Zhejiang province. [Photo/China Daily]
Megvii Inc, a Chinese developer of facial-recognition technology, has raised at least $100 million from investors, including Foxconn Technology Group and CCB International Holdings Ltd, according to people with direct knowledge of the matter.
The owner of Face++ is still in talks with other investors for more funding, the people said, asking not to be named because the matter is private.
Megvii confirmed it's raising funds while declining to comment on the specific amount. It plans to work with investors to improve facial recognition technology, especially in the financial industry, smart cities and robotics, the company said in an emailed statement.
Megvii provides face-scanning systems to Ant Financial, which operates the dominant payments service on Alibaba Group Holding Ltd's online shopping platforms. The e-commerce operator and internet companies from Facebook Inc to Google Inc and Baidu Inc are embracing biometric technologies and artificial intelligence to improve security and smooth e-commerce.
Beijing-based Megvii also has attracted funding from Qiming Venture Partners and Sinovation Ventures, the incubator founded by Google's former China head. The company is working with Ant Financial on a system allowing users to set up bank accounts online through facial scans, provided it receives regulatory approval.
Investors in the latest round include those that participated in previous funding, the people said.
Bloomberg