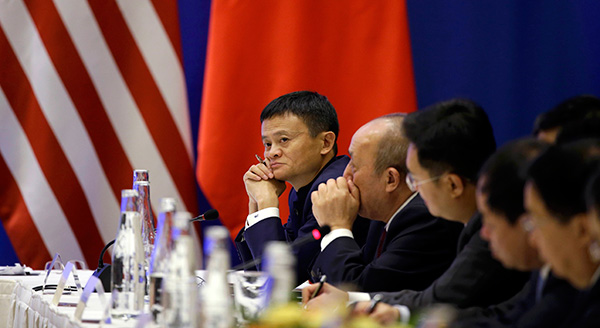 Executive Chairman Jack Ma, of Alibaba, listens with others to President Xi Jinping at a US-China business roundtable, comprised of US and Chinese CEOs in Seattle, Washington, on Sept 23. [Photo/Agencies]
After decades of double-digit expansion, China's economy in the second quarter of this year grew at 7 percent. That was the slowest pace in nearly a quarter of a century as weak overseas demand, rising labor costs and a stronger currency hit the country's exports.
Low-end manufacturing has also faced increased competition from cheaper rivals in Vietnam, Cambodia and other parts of Southeast Asia.
To drive China's economy forward, the emphasis will be switched to high-tech manufacturing as well as online services, such as e-commerce. Already spending on IT services is up 165 percent during the past eight years.
This is in line with the State Council's "Internet Plus" policy that was unveiled earlier this year. The plan will focus on increasing integration of the Internet, cloud computing and big data into traditional manufacturing. Big data is vital to the policy, and is a broad term for processing vast amounts of complex statistics, which can then be boiled down into market and consumer trends.
"The policy is testament to the government's determination to grow China's domestic technology industry," Jiang, the deputy researcher, said. "Also, high-tech is a key sector in the US and that will attract Chinese investment."
That, of course, has already started. Haier Group, a multinational consumer electronics company, has a well established presence in the world's largest economy, while Lenovo, the PC and smartphone manufacturer, is no stranger to the US.
In fact, nearly all the 15 companies that were part of China's business delegation either have operations in the US or plan to expand there.
"All these firms have some sort of relationship with their US counterparts," Jiang said. "Lenovo, for example, acquired IBM Corp's PC operations, while Haier has been in the country for a while."
Shandong Yuhuang Chemical Co Ltd is another Chinese company making inroads. The privately owned firm was included in the business delegation for the first time.
But that was hardly surprising as it recently rolled out a $1.5 billion methanol plant in Louisiana, with an annual production capacity of 1.8 million metric tons.
"There is huge demand in China for methanol, and the gap between supply and demand will expand to 20 million tons every year after 2018," Wang Jinshu, chairman of Yuhuang, said. "It is likely that we will import all the product to China. This will help improve the trade balance and reduce trade friction between China and the US."
In August, the US division of Chinese auto-parts maker Wanxiang Group Corp teamed up with billionaire John Pritzker's private investment firm to invest $1 billion into the country's hotel sector.