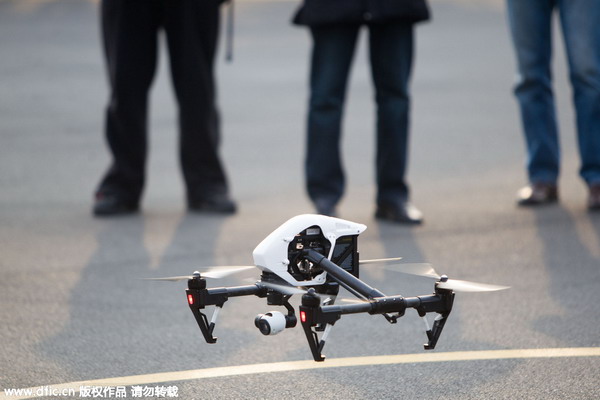 A camera-equipped "Inspire 1" unmanned aerial vehicle (UAV), or drone, of DJI Technology Co hovers during a test in Shanghai, China, Jan 10, 2015. [Photo / IC]
DJI Technology Co is now a leading domestic drone manufacturer, but it had only 90 employees in a single office when it was founded in 2006 in Shenzhen, Guangdong province.
At the time, few people believed that the modest startup would become so successful. By 2013, sales had reached about $130 million, up almost 80-fold from just three years earlier. The staff now numbers about 3,000.
And on Wednesday, media reports suggested that the company was in talks to raise funding from venture capital firms. The reports said the company might raise hundreds of millions of dollars, with investors valuing it at as much as $10 billion.
The company, which makes commercial and recreational unmanned aerial vehicles, as drones are also known, has achieved several years of triple-digit growth, making it one of the world's fastest-growing technology companies.
DJI accounts for more than half of the global small-scale drone market, with its products being sold in more than 100 countries and regions, according to the company.
It is just one of many successes in Shenzhen, known as China's Silicon Valley, where innovative enterprises have emerged as key drivers of the city's economic and employment growth.
According to the Shenzhen government, value added in the local high-technology industry grew 11.2 percent to more than 517 billion yuan ($83.3 billion) last year. The sector's growth rate was 2.8 percentage points faster than for the city's industries overall.
Shenzhen became China's first special economic zone about three decades ago. Initially, it was a base for mostly low-end manufacturing that had become uneconomic in other locations. Now, it is home to more than 30,000 high-technology companies, many of which are global leaders.
"Despite slower industrial output and investment growth, China has steadily pursued structural reforms that are creating a stronger industrial base, with emerging industries such as high technology contributing more to the country's economy," said Sheng Laiyun, spokesman of the National Bureau of Statistics.
Sheng spoke at a news conference in Beijing on Wednesday after the agency reported that national industrial output grew 6.4 percent year-on-year in the first quarter, down from the 8.7 percent growth rate recorded a year earlier.
"New industries, new commercial activities (and) new products ... have been gaining fast and helping create synergies between the information and technology industries and traditional industries, as well as agriculture and the process of urbanization," said Sheng.
For example, the output of alternative-fuel vehicles and robots both grew more than 50 percent in the first quarter.
In the services sector, the express delivery business grew 46.8 percent, according to Sheng. Express delivery companies are booming on the back of e-commerce.
Industry experts said the technology and innovation industry will help create jobs and propel income growth.
"Emerging industries, especially in the technology and innovation sectors, always need talent," said Lin Jiang, a professor at the Guangzhou-based Sun Yat-Sen University.