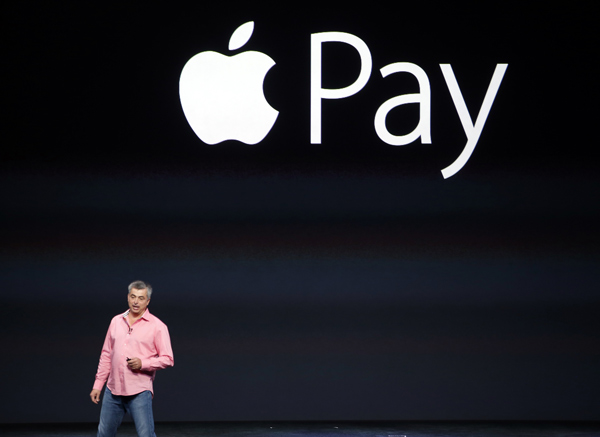 Eddy Cue, Apple's senior vice president of Internet Software and Service, introduces Apple Pay during an Apple event at the Flint Center in Cupertino, California, Sept 9, 2014.[Photo/Agencies] 
Chinese Apple fans awoke to a surprise Wednesday morning when they found prices for some applications on Apple's iOS App Store had dropped to between 1 and 3 yuan ($0.16–0.48).
Normally priced at around an equivalent exchange rate to US app store prices, the change on the Chinese app store drew comments of awe and humor on Chinese social media.
"The price drop on the App store has so many apps for 1 yuan, can you resist" wrote one Shanghai based netizen. "But seeing all those 45 yuan apps I purchased depreciate in value so fast makes my heart break".
Application prices are decided by the software developer. Apple's guideline pricing has been minus $0.01 from the dollar value, so $1 becomes $0.99. In foreign countries, Apple has maintained an equivalent form of pricing, charging the local equivalent of $0.99.
There have been earlier price adjustments due to market forces. Last year, the Cupertino-based company had to increase prices on the Japanese app store due to falls in the exchange rate between the Yen and the dollar.
Chinese media linked Monday's UnionPay deal to the sudden reduction. Chinese tech websites such as Sina Tech and IFeng.com Tech have written articles arguing that the falls were in part related to the App Store accepting UnionPay payments.
"Apple may be testing out the new pricing in China only before a global roll out," said Alexander Rivan Ronalds, CEO of Argine Consulting, a gaming consultancy for developers around the world. "The $0.99 minimum price point isn't necessarily good for the app store ecosystem. There are many free to play games where the life time value is actually lower than $0.99, this could imply there is a market for lower priced apps".
Ronalds says data proves that users are sensitive between $0.99 apps and $2.99 apps and that it would be reasonable to assume users would be sensitive at lower levels too. He said this might be more so in a developing market such as China.
Apple representatives declined to comment.