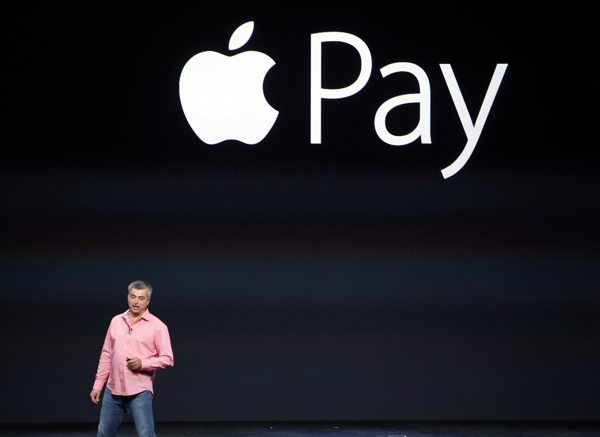 Eddy Cue, Apple's senior vice president of Internet Software and Service, introduces Apple Pay during an Apple event at the Flint Center in Cupertino, California, Sept 9, 2014.[Photo/Agencies]
The shares of Alibaba, the Chinese e-commerce giant, surged on Tuesday after the firm's chairman Jack Ma commented on the potential tie-up between the tech behemoth and Apple.
Alibaba's shares blasted $1.89, or 1.9%, to $99.68 and the shares had been as high as $100.67 during the day.
It was the first time that Alibaba's share price crested $100 a piece since Sept 18, the first trading day, said forbes.com. Apple shares also rose 0.8 percent to about $106.
According to Reuters, Ma and Tim Cook, the CEO of Apple, expressed their desire to work together during separate appearances on an outdoor stage on the opening night of a three-day tech conference organized by The Wall Street Journal on the evening of Oct 27, 2014 in California.
Ma said he'd be receptive to working with Apple on a mobile payments system, according to Reuters. Alibaba owns Alipay, which is a payment service that has its own mobile payments system.
Cook said he plans to talk with Ma later this week about a possible partnership, although he offered no details.