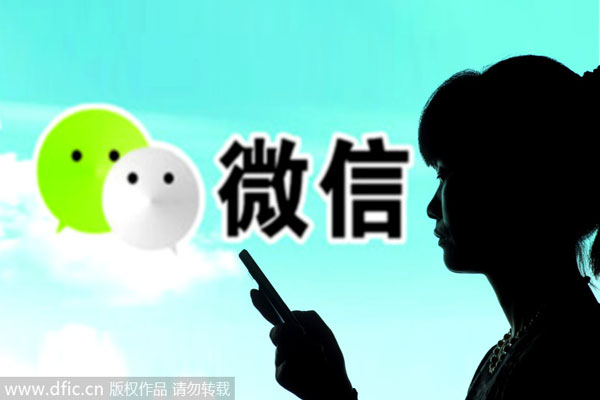 A Chinese woman uses her mobile phone in front of an advertisement for mobile messaging app Weixin, or WeChat, of Tencent in Shaoyang city, central China's Hunan province, March 31, 2013. [Photo/IC]
BEIJING - China will now require users of instant messaging services to use their real names when registering, in an effort to hold users responsible for content they send out.
Targeting China's 5.8 million public accounts on apps like WeChat, the new regulation will take immediate effect. All registrations must be reviewed by service providers.
"A few people are using the platforms to disseminate information on terrorism, violence and pornography as well as slander and rumors," said Jiang Jun, spokesman for the state Internet Information Office (SIIO).
First time users will be required to provide their real names, while users who have previously registered accounts will have limited access to the service until they verify their identity.
Only media organizations and news websites can use public accounts to release and retweet political reports. Some public accounts of non-media organizations will be allowed to retweet political reports after scrutiny.
Users must abide by "seven bottom lines": authenticity of the information provided, the law, the national interest, public order, the rights of other citizens, social morality and the socialist system.
Providers of instant messaging services must protect citizens' privacy, will be subject to public supervision and must deal with illegal posts in a timely manner.
If users break the rules, they will be warned, their use of the service may be restricted and, as a last resort, accounts may be closed.
Tencent, parent company of Wechat, announced a campaign against accounts that disseminate illegal and harmful information on Thursday. More than 100 such account have already been closed.
Guo Kaitian, vice president of Tencent, said the company will fight Internet crime, and hold users responsible for all content they send out.
"As instant messaging services have become a major means of communication, the regulation will promote the healthy development of the industry," said Yuan Foyu, marketing manager of Yixin, another instant message provider.
Freedom of speech
Authorities said the regulation protects the right to freedom of speech.
"Some people are damaging other people's rights and interests and public security in the name of freedom of speech," Xu Feng, head of mobile Internet management at the SIIO said.
More than 800 million people use instant messengers in China, sending more than 20 billion pieces of information every day.
The new rule follows a series of attempts to clean up cyberspace. Similar regulations were passed for microblogging service Sina Weibo in 2012 which now has more than 500 million registered users.
According to a judicial interpretation issued by the supreme court and procuratorate in September, defamation charges can be levelled against those whose posts are deemed to be rumors and are viewed by more than 5,000 users or retweeted more than 500 times. Defamation charges can lead to up to three years in prison or loss of political rights.
"Cyberspace cannot be a place of disorder and hostility," Jiang said. "No country in the world allows the spread of rumors, violence, cheating, sex and terrorism."