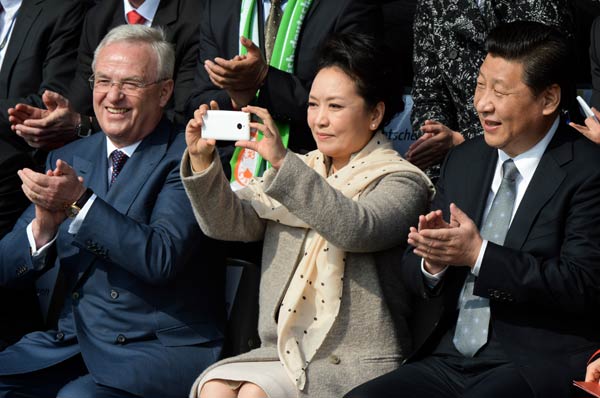 First lady Peng Liyuan takes pictures with the Nubia Z5 Mini handset, manufactured by Chinese cellphone maker ZTE Corp, as she watches a friendly soccer match with her husband, President Xi Jinping, and Martin Winterkorn, CEO of German automaker Volkswagen, in Berlin on Saturday. SOEREN STACHE / AFP VIA DPA
First lady Peng Liyuan was spotted taking pictures with a home-made smartphone during a State visit to Germany last week with her husband President Xi Jinping. A year ago, the gadget in Peng's hand was an iPhone 5.
The first lady's "change of appetite" puts the spotlight on a less-highlighted business: inexpensive made-in-China smartphones with special features.
Peng's Nubia Z5 Mini, a darling work of Shenzhen, Guangdong-based ZTE Corp, is empowered with a 13-mega-pixel rare camera with such features as taking panorama images.
"Photo-taking capability is the most highlighted function of Z5 because it's honestly the only strength of the product," said Li Kuan, a freelance consumer electronics critic.
"Single selling point will bring price advantages to such a product and will be easier to get positive feedback from target buyers," he said.
The price tag of an entry-level Z5 Mini is below 1,500 yuan ($240).
A number of Chinese manufacturers are also betting on similar strategies to gain foothold in the segmented market.
OPPO, another Chinese brand, released Find 7 series featuring high-quality image taking and rapid charging features. The price of Find 7 is less than 3,000 yuan.
Xiaomi Corp, a seller of "cool" and "trendy" phones armed with an indigenous operating system, has become a favorite among millennials.
Most of the products with unique features are in the price range of 1,500 yuan and 3,000 yuan, said Li.