Tesla denies it plans to open plant in Guangdong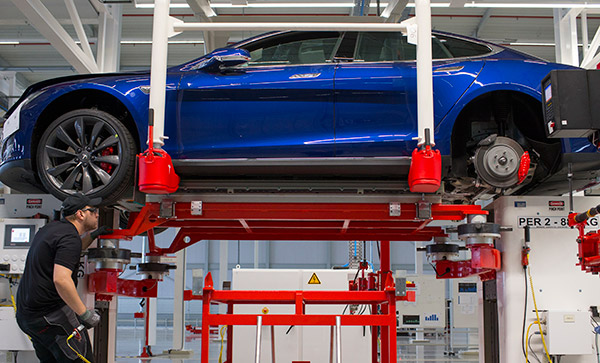 A worker positions a Model S automobile during a battery pack fitting at the Tesla Motors Inc factory in Tilburg, the Netherlands. [Photo/Agencies]
Tesla Inc has denied media reports of its plans to build a plant in South China's Guangdong province, calling them "rumors".
The Southern Metropolis Daily reported on April 10 that the US electric carmaker has chosen a site in the province and is waiting for the authorities' approval.
Tesla soon denied the news. "Tesla is deeply committed to the Chinese market, however the rumors that we plan to open a factory in Guangdong are not true," said the automaker in a written reply to China Daily.
Analysts believe the presumption is possibly based on Guangdong-headquartered Chinese technology giant Tencent's recent acquisition of a 5 percent stake in Tesla as well as China's growing demand for new energy cars.
There had been rumors of Tesla building manufacturing facilities in Suzhou, Jiangsu province, last year, and in Shanghai earlier this year, all of which were later denied.
Tesla has reported record deliveries of some 25,000 vehicles for the first quarter of 2017, up about 69 percent year on year. It is to begin the production of its Model 3 vehicle later this year.