Tougher rules for electric vehicle subsidies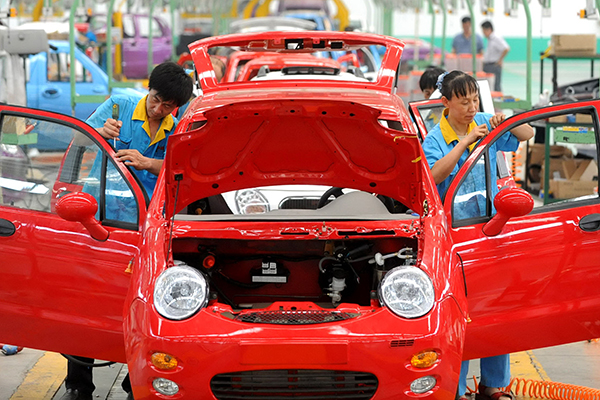 Workers assemble new-energy cars at a workshop of Weidong New-Energy Car Co Ltd in Zouping, Shandong province. [Photo/China Daily]
China will impose stricter standards for new-energy vehicle manufacturers and cut the subsidies for pure electric cars in a move aimed at weeding out companies that lack the ability to provide quality products.
The government has raised the technology threshold for makers of new-energy vehicles-comprising electric vehicles, plug-in hybrids and fuel-cell cars-by setting standards on energy consumption and driving distance on a single charge, according to a statement posted by the Ministry of Finance on its website. Subsidies on pure electric as well as hybrid plug-in passenger cars will decline by 20 percent from Jan 1, and a cap has been placed on the subsidies at local-government levels, the ministry said.
The steps will likely lead to a shakeout in China's electric-vehicle industry with 200-plus companies, as many may not be able to meet the more stringent guidelines. Generous subsidies helped cultivate a gold-rush mentality, prompting concerns the industry is plagued by too many manufacturers lacking the technical know-how to produce electric or hybrid cars that measure up to those from Tesla Motors Inc or General Motors Co.
"In the long term, this is going to help the industry to develop in a healthy way, but in the short term it'll put pressure on even the big manufacturers," Ka Leong Lo, Hong Kong-based analyst at Maybank Kim Eng Securities, said by telephone.
"The reason the ministry is putting a cap on local government subsidies is mainly because it wants to weed out frauds."
Subsidies at local-government levels have been capped at 50 percent of that offered by the central government, according to the ministry's statement. The subsidies from the central government to EVs will be limited to 44,000 yuan ($6,333) for those with a driving range of 250 kilometers and above.
The central government has limited subsidies to electric buses at 300,000 yuan, compared with the maximum 500,000 yuan offered earlier, according to the ministry.
After a nine-month investigation, the finance ministry identified in September five manufacturers of electric vehicles for scamming the government of about $150 million in subsidies, citing them as "classic cases" unearthed in a probe into 90 major new-energy vehicle makers covering 401,000 vehicles.
The rules in China are being tightened as the world's biggest auto industry grapples with overcapacity and high inventories. Carmakers are seeing pressure on their profit margins with the spread of cheap models, while stringent fuel-economy and emissions targets are set to raise costs.
Bloomberg