CAR drives up H1 net earnings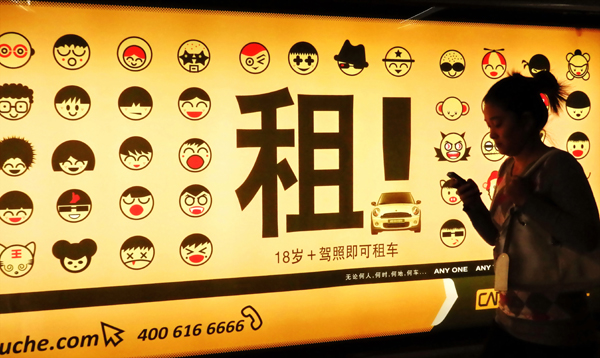 A pedestrian walks past an ad for CAR Inc in Shanghai. PROVIDED TO CHINA DAILY
But road to profits could prove tougher going as Didi gears up launch of online auto rental service
Despite posting a roaring 161 percent year-on-year profit growth in its half year financial report on Tuesday, China's biggest auto rental company CAR Inc may not in the mood to pop the Champagne and celebrate just yet over its booming business.
That's because Hong Kong-listed CAR is expected to see much fiercer competition going forward over market share as China's ride-hailing heavyweight Didi Chuxing confirmed it will launch an online car-rental service, said analysts.
Beijing-based Didi said on Monday it will use a so-called asset-light model-by cooperating with other car-rental companies and leasing companies-to offer online car-rental services in response to the boom in the short-term and tourist car-rental market as the population goes through a lifestyle revolution.
The initiative is Didi's latest strategic maneuver, after wrapping up its cash-burning competition with Uber Technologies Inc in China.
According to media reports, Didi is in talks to team up with eHi Car Service, one of CAR's major competitors in China, in the new service. Didi didn't confirm the possible tie-up on Wednesday, saying it is seeking to discuss cooperation models with car-rental companies.
Wang Xiaofeng, an analyst at consultancy Forrester Inc, said that Didi is a very strong competitor for CAR as it integrated its car-rental service in its existing app, which boasts more than 300 million registered users.
"Many of the smartphone users in China are reluctant to download an app for just one purpose, especially for a car-rental service that they are not going to use every day. Even if Didi only transfers a small part of its existing users to the new car-rental service, it could win a big share of the market from CAR," she said.
Unlike Didi, CAR runs its car-rental business via an asset-heavy model. According to its financial report, it had a fleet of 99,727 cars by end-June. The model has proved effective for CAR to date, allowing it to control the quality of its cars and its services, in the process boosting profit growth.
According to the Beijing-based CAR, net profit in the first half of the year soared to 1.06 billion yuan ($159 million), a rise of 161 percent compared with the same period last year.
Zhang Xu, an analyst with the Beijing-based internet consultancy Analysys, said that Didi may make CAR feel the pinch from the competition, but it may not be able to shake CAR's No 1 position.
"The asset-light model makes it challenging for Didi to control the quality of the cars for rent as they will be provided by other companies. Once a car accident happens, it will be very complicated for Didi to split the responsibility from the car-rental firm," he said.
But Zhang expected Didi to make a big effort to boost the new service, because it was eager to find a new powerhouse to spur growth.