Time for Tesla's would-be rivals to put up or shut up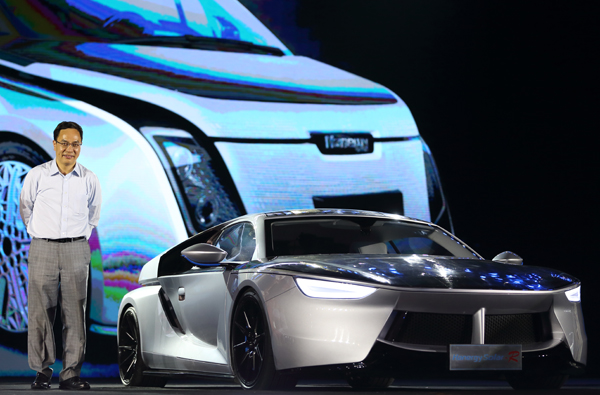 Li Hejun, chairman of Hanergy Holdings, presents a concept solar-powered vehicle in Beijing on July 2. Fan Song / For China Daily
Electric car making in China appears to have turned into a battle of the entrepreneurs, with a number of eco-inexperienced companies vowing to develop and mass-produce large-sized premium electric cars to rival or beat Tesla's offerings in the sector.
The individuals that helm these companies have come out with a range of confident and often grandiose statements that make it seem as if they fully expect to leave US-based Tesla firmly in their rearview mirror, and soon.
First-time audiences have been understandably excited by such sentiments, although many have wondered if it can really be so easy, especially since the traditional auto giants have thus far failed to challenge Tesla, despite their undoubted advantages in capital and staff.
It is clear that the new pretenders to Tesla's crown have much in common besides their perceived common rival.
Whether by accident or design, they hold press conferences to which they invite legions of reporters. Their CEOs dress casually, in the style of Mark Zuckerberg or the late Steve Jobs, and gesticulate to an unnatural degree while repeating punchy adjectives such as "revolutionary" and "transformative".
According to their narratives, auto making is a wonderfully straightforward endeavor, even though it is common knowledge in the industry that it takes even an established car maker at least three or four years to produce a new model.
Youxia Motors is an excellent example of how some of the new players are attempting to rewrite the auto industry's generally accepted rulebook.
The company, which was established in 2014, claimed late last year that its 40-member team, with a meager budget of less than 20 million yuan ($3.02 million), had miraculously developed a car in less than 500 days that would be a serious rival to Tesla. Interestingly, Youxia's design bears a striking resemblance to the Tesla Model S and earlier this month, the company claimed that its new car would hit the market next year.
Many people have also been surprised by the fact that many of those leading the new clutch of companies have either limited or no auto industry experience. For example, Youxia's founder Huang Xiuyuan has done many different jobs since he graduated in 2008 with a degree in mass communication, ranging from selling shoes online to making videos for Baidu Inc, according to Chinese media reports.
In July, Chinese power giant Hanergy vowed to roll out solar-powered cars within three years, but when he was asked about the company's plans to secure investment for the project, boss Li Hejun sidestepped the specifics and said that it would succeed thanks to "its virtues, wisdom, will and luck". One can only imagine what potential investors made of such a vague prognostication.
LeEco has gone even further. As one of the first internet companies to make public its car-making ambitions, which it has repeated ad nauseam, it announced on Aug 10 plans to build a plant in Zhejiang province after showcasing a mule car in October.
While some have applauded the move, many have asked if the company will be able to raise the 20 billion yuan that will be needed in order to finish the plant.
Others have questioned whether LeEco has overstretched itself by attempting to build a plant capable of producing 400,000 large-sized premium electric cars annually when it has no idea at what point the first car will roll off the assembly line.
This could, however, be a cunning ploy on LeEco's part, proving that it is the most seasoned of the new pretenders. By not setting out a definite schedule, though, it has given itself more leeway, but by doing so has raised the possibility that it has sold a beautiful mirage to reporters and potential customers alike.
Everyone loves an exciting story, and we respect those that endeavor to turn fiction into reality. But many people are becoming exasperated by the propensity of these entrepreneurs to talk big and deliver very little. At some point, they must walk the walk and not just talk the talk, especially when their words seem so fantastical that one wonders if their plans and dreams can ever be realized.
It might be impetuous to reject out of hand their blueprints for the future. After all, development can happen rapidly in this industry, and it requires visionaries and dreamers to push things forward apace.
However, if I had to give them one piece of advice, it would be this: Put up, or shut up. We in the industry are tired of all the grand promises that, so far, have not been kept.